Set of 3 Blue and White Heavy Pottery Pitchers, illegible mark looks like 2 lions rampant or lion & unicorn
by Dianne
(Cardiff, Wales, UK)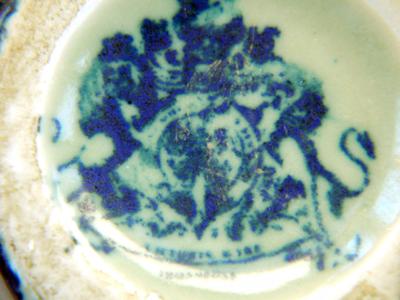 Set of 3 Blue and White Heavy Pottery Pitchers, illegible mark looks like 2 lions rampant or lion & unicorn
Set of 3 Blue and White Heavy Pottery Pitchers, illegible mark looks like 2 lions rampant or lion & unicorn:- I recently purchased this set of 3 very heavy and thick pottery pitchers at a local general sales auction. They were in a box of miscellaneous china and household items. Each has a backstamp but none of them are legible. It looks like the stamps have been smeared during application.


The pots are of a very thick construction, I would say at least 1/4" thick. They are really substantial.
The pattern, which extends around the whole piece, is a pastoral scene looks like two men on horseback approaching a villa. Again this transfer is not very clear. They are not so much blue and white as blue and clay coloured. I really like them and would love to know who the potter is, how old they may be and, of course, what their worth is.
I have spent hours googling potters marks and found a couple which I thought could be the ones, Etruria or maybe Ironstone of some kind, but am not knowledgeable enough to make a definite decision. There are a few potters marks from the USA which could also be similar, but I would find this hard to believe as I bought these in the Welsh Valleys in the UK.
Has anyone seen this before?
Many Thanks
Dianne
Please contribute to this thread by writing in the comments section below – just scroll down...
HOW I MADE MONEY FROM BITS & BOBS OF OLD CHINA

.....more
Peter (admin) says:-
Hi Dianne
It is difficult to tell from the photos and the very smudged markings, but is this device a lion and the unicorn rather than two lions?
On another thread, we have recently identified the another smudgy old looking double lion mark as a very clever modern reproduction range from China (use the in house search engine top right to find it).
This might be authentic looking items from the same maker - look on the bottom for signs of age.
However, putting that doubt to one side these items to all intents and purposes might well be early Victorian Staffordshire flow blue - mid 18th Century. I'll throw a few names out who the maker might have been (or the area which the modern Chinese developers are paying homage to in their incredible impersonation).
First, I noticed in my Kovel's 1650 - 1850 guide that a very similar mark is
attributed to "SHELTON - after 1850. Great Britain". The guide unfortunately doesn't expand at all on this information, unlike on most other listings where it names the firm and the location and the dates of operation, so it remains somewhat a somewhat tantalising titbit of partial information....
Now, as far as I know, Shelton is not a company but one of the historic pottery making townships of Staffordshire.
I believe it is associated with a number of well known firms from the 18th and 19th centuries including the New Hall Works, Ridgways, Cauldon, and Wedgwood etc.
In the 1840's and 1850's Shelton was also home of a W. Hackwood & Son who, I believe might well have made flow blue earthenware of this nature. They apparently, according to Goddens, mostly used a simple 'Hackwood' (i.e. their name) mark of various types, but I don't know if they also used the lion & unicorn device which Kovel's attribute to 'Shelton'. They were based at the New Hall Works, Shelton for about 14 years, the same venue as the firm who earlier had made the first UK hard-paste porcelain at New Hall until about 1812 (when it was superseded by Spode's bone china invention of 1799).
Other makers at the time also used very similar markings - using heavily imprinted lion and unicorn device, with similar round shield and top crown with a small lion detail. They would all likely have been making flow blue earthenware.
Look at the wording on your items closely (which I can't see) and see if any of the following might match....
Charles Meigh & Son of Hanley 1851 - 1861
G L Ashworth & Bros of Hanley 1784 - (taken over by Wedgwood). This mark used c.1862
Arthur J Wilkingson of Burslem (after 1885)
All these 3 firms used virtually identical devices as shown on your items.
Many other of the older firms both in the UK and USA used similar lion and unicorn devices, but none of them show the small lion on top of the raised central crown at the very top of the mark.
Remember though (as I am learning from your submissions all over this website) that this grey area of only partly catalogued antique makers is just the area the modern Chinese reproduction factories are targeting.
Hope this helps you research.
Best regards
Peter (admin)
For general free advice on how to research your collection, I wrote these pages:
My vintage and antique china values page
value of antiques
.