Serving Platter Makers Mark - Griffin and the initials under it TST
by Debra
(Kansas City, MO)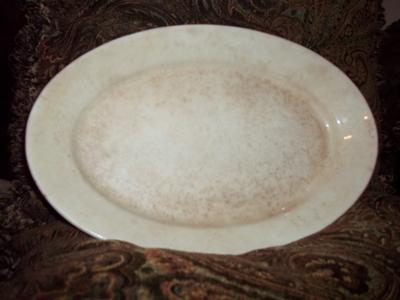 Serving Platter Makers Mark - Griffin and the initials under it TST
Serving Platter Makers Mark - Griffin and the initials under it TST:- I have an oval serving platter from my grandmother that has a makers mark with one Griffin and the initials under it TST. I can't find any information on the platter or the mark.


Debra
==========================================
Please contribute to this thread by writing in the comments section below – just scroll down...
HOW I MADE MONEY FROM BITS & BOBS OF OLD CHINA

.....more
The forum Help Elf says:-
This is one of the many marks of US firm The Taylor, Smith & Taylor Pottery and used from around 1901 to 1930. It often has the term 'vitreous' underneath - which means the ware is porcelain; fired at high temperatures and therefore non-porous without a glaze.
TST or TS&T was founded c.1899 by Col. John N. Taylor and C. A. Smith using the equipment of the Taylor, Smith & Lee Pottery. Around 1903 the firm was bought by W. L. Smith. The family went onto own the firm until 1973 when the plant was bought out by the Anchor Hocking Corporation. Known for their Lu Ray Pastel range this popular line was discontinued around the late 60's. TS&T finally ceased production in 1981.
For porcelain valuation advice, Peter wrote this page:
value of antiques
.
H.E.