Parrott and Company "Coronet Ware"
by Paula
(Canada)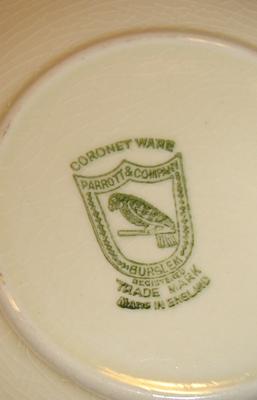 Parrott & Company, Coronet Ware
Although my Grandfather was from England, I "believe" my mother purchased most of her collection of bone china teacups and saucers here in Canada but I can't swear to that. I was the youngest of nine children and I am a senior now, and the collection was kept in my parents' home for as long as I can remember. Before my Mother passed, the collection was given to me by my Father. It has remained with me, in Cape Breton, Nova Scotia, displayed in a glass, antique cabinet (also from my parents). I have Royal Winton, Royal Vale, Adderley, Salisbury, Sutherland, Phoenix, Regina, Parrott & Company, Royal Albert, etc. etc. I had tracked down all the markings except for my Parrott & Co. marking until I came to this site and Peter gave me the history of the potters. I am now going to share the marking and the pictures of the Parrott only teacups and saucers.