Pottery Mark query - 'Old English' above crown. Johnson Bros England By. Gold handpainted 'H' well away from stamp on back
by Aly Mollica
(Perth Western Australia)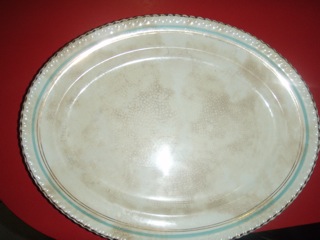 I don't know a lot about this cream small (12 quarter inches long) oval platter with gold scalloped edged gilding. It has been my grandmothers for all of her life, and with her recent passing has come into my possession. SHe migrated from Tottenham to Australia back in the early 20's. I suppose I'm just wanting to know what the pattern is and what this platter is called so I can try to value it for insurance purposes.


Thanks to all!
Aly
======================================
Please contribute to this thread by writing in the comments section below – just scroll down...
HOW I MADE MONEY FROM BITS & BOBS OF OLD CHINA

.....more