Need help identifying "England" EIT mark
by Katrina
(Stafford, VA)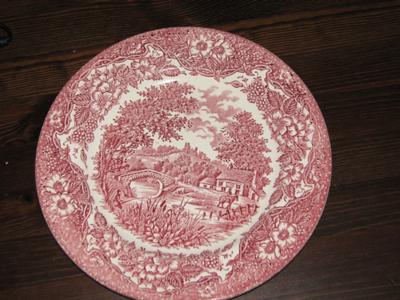 Need help identifying
Need help identifying "England" EIT mark:- I have 4 of these plates that were left by my husband's first wife. She didn't want them and he believes that they belonged to her grandmother but isn't sure. I have searched several sites and cannot find this mark anywhere. I have found similar patterns and they have been called lots of things but most commonly it is "England Red River-Red"


All 4 plates have the same pattern, but the depth of color varies from plate to plate. It varies from a deeper almost maroon to a rosy pink depending on the plate and the shading within the scene on each plate.
Three of the plates have the same imprint on the back that is a fancier "EIT" with the "ENGLAND", but one of the plates has a standard print "EIT" that matches the print on "ENGLAND".
Any information about the mark and the pattern would be greatly appreciated.
Katrina
======================================
Please contribute to this thread by writing in the comments section below – just scroll down...
HOW I MADE MONEY FROM BITS & BOBS OF OLD CHINA

.....more
Need help identifying "England" EIT mark
Hi Katrina
Many thanks for submitting, and hope you are finding the site useful. The first thing to say is I have never heard of or come accross any company called EIT before - and I have seen many different queries come through this website.
I looked in my faithful Goddens encyclopedia and not a hint of this name.
If it not in Goddens it normally means it is a very obscure maker or a more modern mark than the 1960's edition I have.
It was not mentioned in Kovels either.
My first impression when I looked at the photos was - this looks exactly like Johnson Brothers Ironstone (part of the giant Wedgwood Group
- recently in and out of administration).
I started digging around and firstly found a lot of EIT around for sale. I found it stood for English Ironstone Tableware Ltd of Staffordshire. Which got me no further forward at all.
I saw one seller listed the items as being 1930's. I have my doubts - why would this firm not be mentioned in Goddens? One thing was common amongst the sellers - they didn't have a clue who EIT were and when the items were made.
Then I began to find modern references to English Ironstone Tableware Ltd. They were mentioned in a recent report on industrial waste by Stoke-on-Trent local authority (dated 1998 to 2011).
I also saw some versions of the mark with "dishwasher proof" on them.
The thing is, not many companies have survived into the modern age without being part of a big group, and if they have, they are well documented in Goddens and Kovels as well as online.
EIT seem to have appeared from nowhere, there is a lot of it around and it looks like Johnson Brothers production, there is no room in this market for new companies who aren't somehow backed by a large group.
My guess would be EIT is a subsidiary brand of The Wedgwood group (or other business group) and made fairly recently.
One way of finding out would be to ask Wedgwood, if you can find anyone left to answer your query.
Other contributors please try to help out with query please, let's get to the bottom of it (check out the comments section below for replies).
Peter (admin)
p.s. The following page is a 'must see' if you are researching fine china - for value and identification:-
Researching the identity and value of antique and vintage fine china
.
Please post comments below which you think might be helpful……