LORD NELSON WARE STAFFORDSHIRE ENGLAND
by Gary
(Calgary Canada)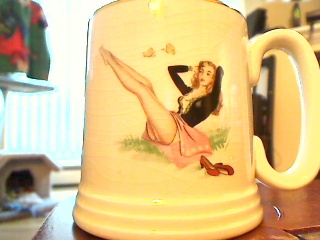 Coffee Cup - LORD NELSON WARE STAFFORDSHIRE ENGLAND
LORD NELSON WARE STAFFORDSHIRE ENGLAND:- any ideas as to how old this is? It is a cream drinking mug with a glamour girl on the front with her hands behind her head, legs in the air, pink skirt and a 1940's hairstyle with her red shoes kicked off.


Any help will be brilliant
Thanks gratefully!
Gary
================================================
Please contribute to this thread by writing in the comments section below – just scroll down...
HOW I MADE MONEY FROM BITS & BOBS OF OLD CHINA

.....more
Knowledgeable contributors please try to help with this one (check out the comments section below for replies).
p.s. The following page is a 'must see' if you are researching fine china - for value and identification:-
Researching the identity and value of antique and vintage fine china
.
Please post comments below which you think might be helpful……