'JM & Co' pottery mark on two-tone Jug
by Oliver
(Harrow Middlesex)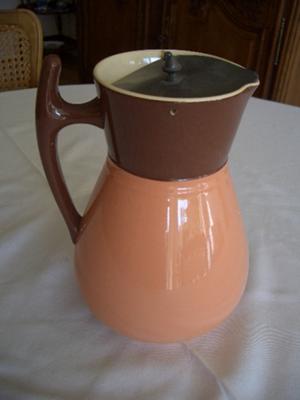 'JM & Co' pottery mark on two-tone Jug
'JM & Co' pottery mark on two-tone Jug:- I bought this several years ago in a car boot sale for a few pounds. I believe it is 19th Century but there are 4 choices of potter that I have found so far. My best bet is J Maudesley & Co in Tunstall 1862-4. There is also a Rd No 89967 as well as some impressed marks on the base 'G' for example. The rest is separate and hard to decipher.


Thank you
Oliver
=========================================
Please contribute to this thread by writing in the comments section below – just scroll down...
HOW I MADE MONEY FROM BITS & BOBS OF OLD CHINA

.....more
'JM & Co' pottery mark on two-tone Jug
Hi Oliver
There are several candidates who used the JM & Co mark in various guises.
I thought at first this one might be John Marshall & Co of Borrowstounness (abbreviated to Bo'ness) Scotland open for business from 1766 - 1958.
I found a specialist site showing over 30 differently intricately designed marks from this company (Godden's Encyclopaedia shown only 2 basic written marks from this firm) - and yur mark seemed to be in their style. However, this variation was not shown.
So I tried another candidate - a firm called James MacIntyre, earthenware makers based in Burslem, Staffordshire from 1860 - 1928 - and BINGO! This is their mark - dating from about 1867 to 1894.
Regards
Peter (admin)
p.s. The following page is a 'must see' if you are researching fine china - for value and identification:-
Researching the identity and value of antique and vintage fine china
.
Please post comments below which you think might be helpful……