Unknown Crown Pottery Mark on Pie Vent Chinaman
by Nancy H
(Columbus Ohio USA)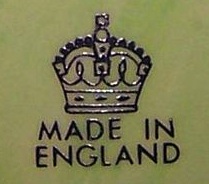 Unknown Crown Pottery Mark on Pie Vent Chinaman
Unknown Crown Pottery Mark on Pie Vent Chinaman:- I collect pie birds/vents/funnels. I am the proud new owner of a pie vent, which has me stumped. My collection is for my own personal pleasure, so the value is not important. Although I do like to know when it was made, and by which pottery.


My new little guy is a Chinese Man. He measured 2-1/2 inches across at the widest part, and is 4-1/8" high. I believe he was made sometime between the early 1920's through maybe the early 1940's. He has the traditional arched areas along the base, which allows steam and juices to enter, and two rather large vent holes in his shoulders. I also believe he is what would be called a "multi-purpose pie vent." A number of US pottery companies produced multi-purpose pie vents in the late 30's and early 40's. They held things like measuring spoons, measuring cups, cake testers, etc.
He is stamped on the back with a crown, and MADE IN ENGLAND.
Pictures are attached.
Comments and suggestions most welcome!
Nancy
===========================================
Please contribute to this thread by writing in the comments section below – just scroll down...
HOW I MADE MONEY FROM BITS & BOBS OF OLD CHINA

.....more
Unknown Crown Pottery Mark on Pie Vent Chinaman
Hi Nancy
Many thanks for submitting, and hope you are finding the site useful. What a cute little fellow this Chinaman is - an what a nice niche to collect in.
Now for the bad news. There are more crown marks than any other type of pottery mark - literally thousands of makers to choose from. I was afraid I would be unable to help without any initials or any other clues to go by.
Then a little bird told me this crown may be the mark of a nice little Burslem maker called Artone. I have written about them here:-
Artone Pottery
.
Their mark is more normally an artist palette with brushes, but maybe their export mark for the US was a crown. I could not find any evidence for this, but perhaps some pie vent collectors please try to help with this one (check out the comments section below for replies).
Peter (admin)
p.s. The following page is a 'must see' if you are researching fine china - for value and identification:-
Researching the identity and value of antique and vintage fine china
.
Please post comments below which you think might be helpful……