Pottery Mark Query - Lion & unicorn "M. & Co." underneath
by Wendy
(Walker, MI)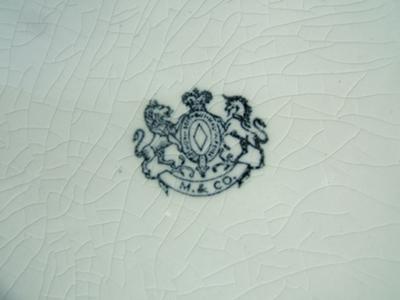 Pottery Mark Query - Lion & unicorn
Pottery Mark Query - Lion & unicorn "M. & Co." underneath:- I received this piece from my dad, it was likely one of my grandmothers. I found a Trenton pottery mark that was similar, but it did not have the diamond in the middle or say "M & Co." beneath.


Any info appreciated.
Thanks!
Wendy
========================================
Please contribute to this thread by writing in the comments section below – just scroll down...
HOW I MADE MONEY FROM BITS & BOBS OF OLD CHINA

.....more
Pottery Mark Query - Lion & unicorn "M. & Co." underneath
Hi Wendy
Many thanks for submitting but the first thing to say is that just because there is a documented mark of a Trenton maker similar to this device does not mean that much. This Royal Coat of Arms of England is one of the most common devices used on pottery marks, and many examples can be found from both US and UK makers. However, you might be right.
The thing is I have not come across the Lion & Unicorn with the letters M & Co before. M&CO was used by two well documented makers - both of them English and from Staffordshire.
Neither are documented in my encyclopaedias as using the Royal Lion & Unicorn. However that doesn't mean to say they didn't use it.
The first and less likely is the small and short-lived earthenware producer called Moore & Co (1898 - 1903)
Your tureen looks from the photos as if it might be very finely designed and made of porcelain. This styling would very much fit the profile of the second possible M & Co company - Minton.
Minton were large and very high quality firm - one of the greats. Around 1841-73 they are recorded to have used many different marks which use the initials 'M & Co'. Too many in fact for every one to be recorded in non-specialist encyclopaedias. They tend to list only one or two. It may be that your mark is one of those not documented. I feel this is the most likely answer, in which case your dish might fetch a good price.
The tureen certainly has very stylish and well executed design values, so could be from Minton.
If it was, the combination of being by Minton, the very stylish design and the age, this tureen might have more value than the average.
Peter (admin)
p.s. The following page is a 'must see' if you are researching fine china - for value and identification:-
Researching the identity and value of antique and vintage fine china
.
Please post comments below which you think might be helpful……