Pottery mark Query - Bow and Arrow with Semi-Porcelain Written
by Kim
(los angeles ,ca)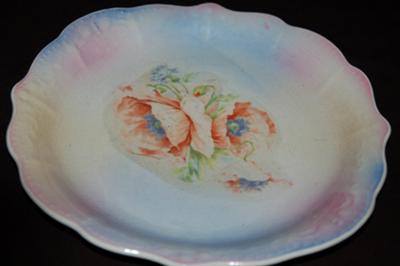 Pottery mark Query - Bow and Arrow with Semi-Porcelain Written
Pottery mark Query - Bow and Arrow with Semi-Porcelain Written:- Hi. I was given this plate along with a few other pottery items. Was hoping someone might be know something about this plate. As you can see from the pictures it is a beautiful light blue and pink colored with the floral print in the center. You can feel tiny little bumps close to the edge of the plate going all the way around. The mark on the back of the plate has an arrow facing straight up with the words semi porcelain with 2 other unknown marks by the bottom of the arrow.


The only info I was able to get was from my aunt who said she bought it at an antique shop many years ago, but never really did any research to find out who made it or what its actual value was. Any help would be greatly appreciated.
Thanks
Kim
===============================
Peter (admin) says:-
Hi Kim
This is the mark of Harker Pottery Co of East Liverpool, Ohio, USA. They were founded in 1890 and continued until 1972. This mark actually dates to the 19th century and was their first one. Their bow and arrow marks have been revised over the years, but always feature an arrow of some sort and normally a bow too.
Hope this helps
Peter (admin)
Anyone needing an Antiques Roadshow valuation, please visit this page:-
My vintage and antique china values page
Please contribute to this thread by writing in the comments section below – just scroll down...
HOW I MADE MONEY FROM BITS & BOBS OF OLD CHINA

.....more