Royal Doulton Figurines - Noke's Brainchild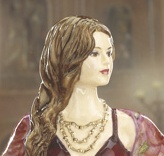 Royal Doulton figurines are primarily the brain child of one Mr C.J. Noke, a prominent Victorian artist and sculptor, together with three other highly productive, creative and dynamic individuals.
The three others were Henry Doulton Snr (son of the founder), John Slater (Designer) and John Bailey (Manager). Together, this group of four were pioneering the Staffordshire Art Department of their London based company Doulton & Co.

Royal Doulton figurines, now so renowned and collected, were a product of their highly creative Burslem, Staffordshire Art Department, headed by Noke from 1914 onwards.
Charles John Noke had been taken on in 1889 as a ceramics and bone china porcelain specialist head-hunted from Royal Worcester.
The Staffordshire potter community were already somewhat wary of these upstart Londoners invading their space, who, by their reckoning, knew nothing about pottery.
From Strength to Strength
So, to have an expert from the arch rivals down south at Worcester Porcelain come up to the potteries must have been the target of much muttering from competing firms who would have been very happy to see Doulton fail. But fail, they certainly did NOT!
Over the course of the 20th century Doulton Burslem wares, and especially their Royal Doulton figurines went from strength to strength, building a large and loyal base of collectors.
During the 20th century, Doulton would, of course, end up seeing off and gobbling up many of the lesser firms in the Staffordshire area.
In 1914 Charles Noke, as the new Art Director, took the reigns from the immensely talented John Slater - big shoes to fill.
From Salt-Glaze to Fine China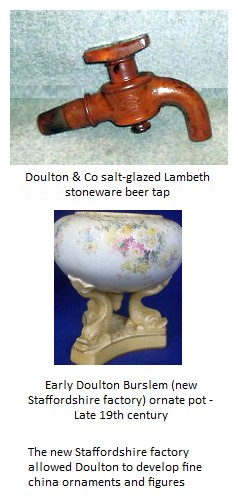 Doulton's other famous London Art Department at Lambeth had long been associated with the nearby renowned School of Art since the 1870's. Famous for Victorian Stoneware art pottery, Lambeth's multi-award winning stoneware is still highly prized and collected today.

The original founder of the company in 1815 was John Doulton and his partner John Watts. They made their money largely from beer taps, drain pipes, pharmacy jars and the like. John Doulton was a driven and clever young man, a successful entrepreneur at the very young age of 22 - he saw the need for art products decorative ornaments and so established the Art College connection.
However talented John D. was, he was superseded by his son Henry who was an inventor, artist, visionary and superlative business man. He took his dad's vision and ran with it.
Henry Doulton won the ultimate accolade when he was knighted in 1887.
Just four years after his death, his company had risen so high it was issued with a royal warrant (1904).
Shortly after joining the company in the 1890's, Noke had begun an attempted revival of figurines.
Noke Was Modeller, Ceramicist and Product Visionary
Remember, Noke was a superb modeller as well as being a visionary product development guru and expert ceramicist. He had been surrounded by fine antique porcelain figurines as a child growing up in his father's Worcester antiques shop - just a stones throw away from the famous old factory.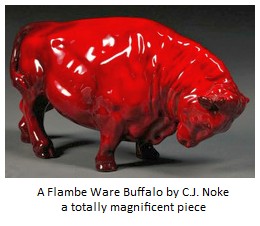 His father was friends with the management and arranged for young 15 year old John to work at his beloved manufacturer.
The young Charles showed prodigious artistic talent from young age and was soon designing award-winning products for Worcester's world renowned exhibition ware. It was John Slater (Art Director) who persuaded young Charles away from his Worcester roots.
In the 1890's, Noke's revival of figurines began with a range of Royal Doulton figurines in parian (a marble-like clay) and also tried the traditional stoneware developed by Lambeth.
Bone China Succeeded Where Vellum Failed

The very first Royal Doulton figurines were produced in the 1890's was a tinted stoneware known as the 'Vellum' range (Vellum being a description of the cream/brown clay body).
Largely these were unsuccessful commercially and prompted boss Henry Doulton to question the potential of figurines as a profitable line.

However, Noke had a bee in his bonnet and when lesser people would have shrugged their shoulders and backed down.
Noke soldiered on, convinced there was a huge market for a new type of poychrome figurine, never before widely collected in the UK.

It took further decade or so, but eventually, after the wider accessibility of bone china as a body, Noke once again pushed the figurine idea.
A range of 20 or so pieces had been developed over 4 years using himself and five other sculptors (Charles Vyse, Phoebe Stabler, George Lambert, William White, and Ernest W Light).

This new bone china figurine collection was got ready for a launch during a Royal visitation of her Majesty Queen Mary in 1913.
The Queen was heard to mutter "Isn't he a little darling" about HN1 "Bedtime" (the very first Royal Doulton figurine ever) a piece not by Noke himself, but by Charles Vyse.
As a publicity stunt the name of the piece was very rapidly changed to "Darling" and the piece remained in production until 1997 (quite a run).

C. J. Noke called this first bone china range the 'HN' collection, which was named after the artist responsible for applying the polychrome enamel painting, Harry Nixon.
The HN naming protocol stuck and now, nearly a century later, my own last Royal Doulton figurine was HN 5048 (designed the mid 2000's), but after that I stopped working with them because they were starting to get their figures made in the Far East and not Nile Street. I want my English bone china to be made in England, thank you.
I now concentrate on my own figures - delectably made all 100% in England (some in Staffordshire, some in Worcester).

The Turning Point for Noke's Figurines

In the early days of the Doulton figurine collection launch (c.1913), despite the royal praise, and subsequent publicity garnering, the figurines still didn't really take off.
It wasn't until further favourable publicity at British Industries Fair of 1920 that things started to go forward for Noke and his precious Royal Doulton figurines. And, even then, figurines didn't go into full-scale production for a further 7 or 8 years.

But after those early years, Doulton developed about 100 different models per year solidly for two decades. By around 1950 the HN series had reached 2000 plus.

Modeller Leslie Harradine, a freelance modeller for Doulton did the bulk of the figures - probably about 10 - 20 models per year (for around 3 decades).
Noke himself also did a lot of figures also, but if you do the maths, they needed about 6 - 10 people like them going like the clappers to reach their production targets.
Other artists commissioned included Harry Tittensor (1st piece HN46; Gainsborough Hat, 1915), Lawrence Perugini (1st piece HN59; Upon Her Cheeks She Wept, 1916), P. Stabler 1st piece HN303; Motherhood, 1918)
The Doulton Succession Plan
Good companies (those who are serious about long term success, that is) always look to nurture young talent and bring them to the front.
A slightly later generation of Royal Doulton figurine artists were then trained to take the torch - people like Albert Toft, Harry Fenton, Mary Nicholl, R. Asplin and Peggy Davis. The Art Director role for the company was an important appointment.

Rather like the royal succession, Noke's son Cecil Jack (another C. J. Noke) at first succeeded his dad to become Art Director in 1938. If this was entirely on merit, I have no idea (he was, by all accounts, a talented tableware pattern designer).
After 16 years in charge, Noke Jnr died and in 1954 the young and fresh-faced Jo Ledger, succeeded him as Art Director.
Another booming success, Ledger went on to produce some important contemporary figural work with artist like Peggy Davies in the 1950's and was himself awarded the OBE for services to industry.

Noke's career was long an fruitful.
Remember, he joined Royal Worcester as an apprentice in 1873, joined Doulton in 1889, became Art Director in 1914 and retired in 1938 aged 78. Even then they couldn't let him go and he worked until his last breath in 1941. Modellers never retire, I am told. I can well believe it!
C.J. Didn't sit on his laurels for one minute it seems.
Human figures and pretty ladies were added to with animal studies. His first animal figures were started in about 1900.
Noke did the early ones himself, but also went on to use specialist animaliers.
Noke's Many Innovations
Remember, as well as Royal Doulton figurines Noke was developing amazing new and revolutionary products like Series Ware, Kings Ware and the ubiquitous and highly collected character toby jugs (redesigned by him to be just head and shoulders rather than whole body).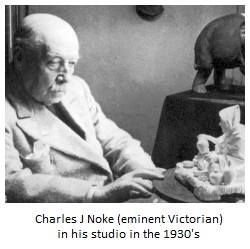 At the same Noke was time working with glaze specialists to develop Flambe Ware.
Previously, in the late 1800's, as a young man, he had already come up with things like Hyperion Ware, Holbein Ware, Lactolian Ware and Rembrandt Ware.

His art pottery of the early 20th century was turned out the be a gargantuan triumph for his enployers Doulton - Rouge Flambe, Crystalline, Titanium Ware, Sung and Chang Ware.
These developments by Noke are considered as important as Meissen or Sevres, and a major contribution to British pottery.

Kings Ware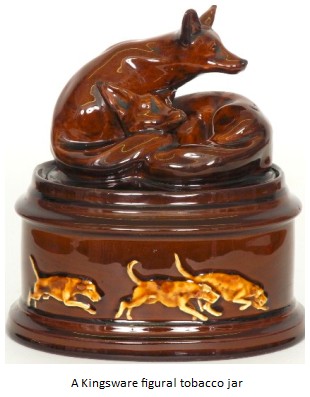 The Kings Ware was a beautiful old brown glaze effect and was popular for jugs particularly, advertising wares and just animal figural groups in the form of lidded jars.
Kingsware was made mainly for about 40 years from the turn of the century.
Series Ware
"Series Ware" was a leap of creative and business marketing imagination.
It invented the concept of 'theme' product ranging. Something all too familiar to us now, but a brainchild of C.J. Noke.
Shakespeare would be one notable theme, put onto plates, cups, teapots, Dickens another. He used people, places and key historical events, sports like golf, tennis etc.

Noke's character or 'face' jugs (1934) were not quite like the traditional Toby Jugs because they in that they were just the 'bust of a character and had brighter enamels. John Barleycorn was the first in the series (modelled by Noke himself).
Why I Love Charles Noke's Legacy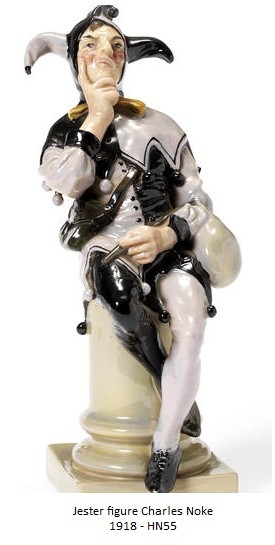 The Noke sculptures that stick in my mind (because I first saw and fell in love with them in the Harrods china & Glass Department (which I worked near to in London) were his Potter, his Jesters, the Cobbler and his Falstaff, not to mention the mysterious middle eastern characters.

Ironically, it is the most commercially successful Royal Doulton figurines which are the most reasonable in price on the secondary market.
That's because they are numerous and not hard to buy.
It is the rarity figures which collectors fight over to complete their collections and often reach four figure sums.
The Jester figure in black and lavender (shown left) HN55 potted in 1918 is a colourway that sold for £1000 at Bonhams London in 2011.
return from Royal Doulton Figurines to homepage or alternatively back to Collectible Figurines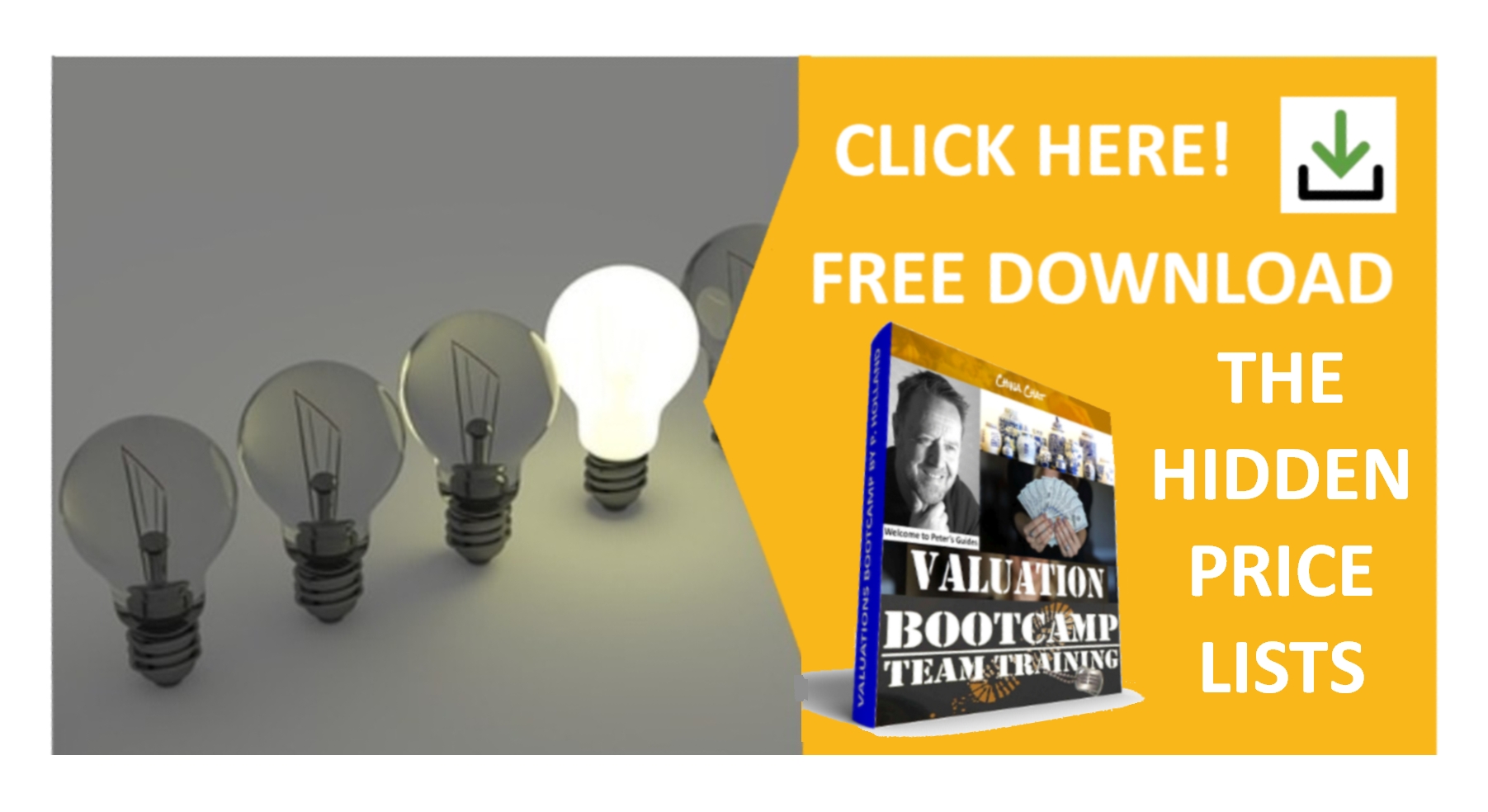 "Your guides are a blessing to us" Cindy Johnson