Antique China and Fine China Collectibles - MORTLOCKS PORCELAIN MARKINGS ON FLOW BLUE PLATTER
by Anon
(CA, USA)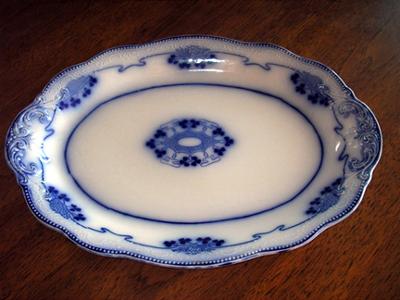 Antique China and Fine China Collectibles Query - MORTLOCKS & W.H. GRINDLEY mark on a Flow Blue Platter
Antique China and Fine China Collectibles Query:- MORTLOCKS & W.H. GRINDLEY mark on a Flow Blue Platter


Q. I have a Flow Blue Platter that has a Mortlocks mark on it. The Pattern seems to be LORNE and is noted right above the mark. Yes, the mark also has GRINDLEY written in the bottom banner below the globe on he mark. Can you please tell me what this all means?
Reply from Peter (admin) below - just scroll down
HOW I MADE MONEY FROM BITS & BOBS OF OLD CHINA

.....more
Reply by John (guest admin from Marks4Antiques.com)
J. MORTLOCK or MORTLOCKS was a Fine Retailers outfit in London, that carried lines from several manufacturers and of all sorts of items including Fine China Collectibles. It was like Harrods is today in London or Nordstrom or Tiffany's in the US. The actual maker is usually noted on this stamp, usually on the lower Banner below the Globe symbol.
LORNE is the Pattern name and, according to our china mark resources, there are 3 companies that made this Pattern (there may be more, but these three are the only ones documented in our pottery mark databases). These companies are:
* DAVID METHVEN & SONS
* R. COCHRAN & Co. - VERREVILLE POTTERY, and
* W.H. GRINDLEY & Co. which is obviously the one that made yours
In summary, by closely looking at the pottery markings, your beautiful Flow Blue Platter can be attributed to J. MORTLOCK (Fine Retailers, London, UK)
item made by W.H. GRINDLEY & CO. LTD. (Staffordshire, UK)
- ca 1891 - 1914
MORTLOCKS had practically all of the items they sold be marked the same way and most of their items were made to order, hence their stamp on this piece. Although the original company at times had the right to make this item and sell it outside Mortlocks, some designs were exclusive.
Hope that helps.
John
Reply by Peter (admin)
Fascinating stuff! Thanks John for supplying the information. Sometimes it takes an expert...
Peter (admin)
p.s. The following page is a 'must see' if you are researching fine china - for value and identification:-
Researching the identity and value of antique and vintage fine china
.