Antique or Fine China Made in Austria hand painted porcelain vase
by Cherie
(Mount Pleasant, SC)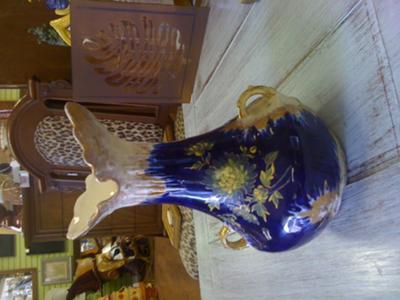 Antique or Fine China Made in Austria hand painted porcelain vase
Antique or Fine China Made in Austria hand painted porcelain vase:- Ran across this hand-painted porcelain vase with "Made in Austria", a circle with C n G arranged in the bottom half, and the number 340 dug into bottom. Found it in a box of things I had not unpacked for 2 years(!), originally purchased from small antiques shop in Upstate NY about 8 years ago.


Cherie
==========================================
Please contribute to this thread by writing in the comments section below – just scroll down...
HOW I MADE MONEY FROM BITS & BOBS OF OLD CHINA

.....more
Antique or Fine China Made in Austria hand painted porcelain vase
Hi Cherie
Many thanks for submitting your vase. I hope you are finding the site a useful and reliable source of information.
Your vase has the look of Bohemian Amphora to my eye (Turn-Teplitz), although I don't recognise the mark as being one of the top makers (I am no expert remember - just a gatherer of information on everybody else's behalf) and I have no idea whether this is of the era or a more modern reproduction - but it certainly has the genuine look of 19th century Bohemia.
Remember, the real thing can go for hundreds if not thousands of dollars even in this current depressed market where porcelain is somewhat out of favour.
Anyone else have any comments or observations?
Peter (admin)
p.s. The following page is a 'must see' if you are researching fine china - for value and identification:-
Researching the identity and value of antique and vintage fine china
.