Antique Vintage China Collectible Japanese Figurines - Pair of Male & Female 14" Statues with Unknown "M" stamp
by Beth Lackey
(Grand Blanc, MI, USA)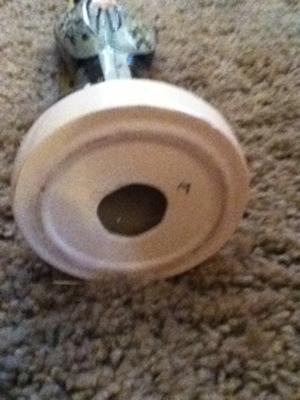 Antique Vintage China Collectible Japanese Figurines - Pair of Male & Female 14
Antique Vintage China Collectible Japanese Figurines - Pair of Male & Female 14" Statues with Unknown "M" stamp:- We were told that these statues were obtained during WWII in Japan from our grandfather. We cannot find anything on the "M" stamp, which is only found on the male statue. The story was that they were Ming statues, but we have been unable to authenticate.


Beth
=====================================
Please contribute to this thread by writing in the comments section below – just scroll down...
HOW I MADE MONEY FROM BITS & BOBS OF OLD CHINA

.....more
Antique Vintage China Collectible Japanese Figurines - Pair of Male & Female 14" Statues with Unknown "M" stamp
Hi Beth
What nice account of your grandfather - a war hero - returning with gifts for the family. Fabulous.
However, tall figurines tall story! I think Gramps was pulling your legs as kids.
Ming? No.
I am not an expert - particularly in Oriental wares - I am merely a gatherer of information.
Second, I do have a little knowledge, but I always tell myself "a little knowledge is a dangerous thing".
So here's my two pennies worth on your figures.
An 'M' mark from Japan often indicates Noritake. Normally they are ornate and western looking (for export).
No, definitely not Ming.
Ming figurines do exist, but I have seen two distinct types. One is very naive in style and kind of "distressed" or faded looking - very unlike the ornate and sophisticated porcelain tableware and vases of the period.
I have
seen beautiful Ming figures more ornate, but they have a distinct look to them with movement in the fabric and details on the faces - not straight up and down like yours (easy and cheap for mass production).
Your figures look nothing like either type of Ming figure I have seen - although they are naive in style, the Ming naive is a different sort of style.
I have also seen Kutani figurines from the 1930's which are normally quite exquisite in some way or other (movement, color, design, cuteness etc).
Your figures look as if they walked straight off the 1930's Hollywood set of 'The Return of Fu Manchu', but were made in a hurry. In fact they look more western than Japanese.
Just take a look a the carved ivory Japanese figures to get an idea of what 'Japanese' looks like. Although we don't so much like the idea if ivory work nowadays, these carvings will take your breath away. True detailed mind boggling craftsmanship.
Your figurines are a curiosity, but I suspect they were made as souvenir items in the 30's or 40's when the Hollywood Fu Manchu thing was all the rage.
Having said that, these are unusual in that I have never seen their like before, and I have a sneaking liking of them - they are quite cute.
Best regards
Peter (admin)
p.s. The following page is a 'must see' if you are researching fine china - for value and identification:-
Researching the identity and value of antique and vintage fine china
.