Ceramic Mark Query - Crown Over C on Deco Porcelain Figurine
by Peter
(Wakefield UK)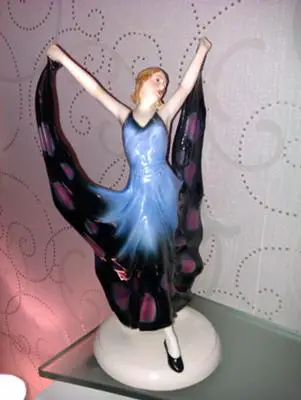 Ceramic Mark Query - Crown Over C on Deco Porcelain Figurine
Ceramic Mark Query - Crown Over C on Deco Porcelain Figurine:- Purchased this figure a few weeks ago and cannot identify the mark. It is a deco lady and gives me the impression it may be Austrian or German.


The mark is in blue a Crown over the letter C with what appears to be a Dagger inside the C.
Any ideas if you think it is not a dagger.
Peter from Wakefield
=========================================
Please contribute to this thread by writing in the comments section below – just scroll down...
HOW I MADE MONEY FROM BITS & BOBS OF OLD CHINA

.....more
Ceramic Mark Query - Crown Over C on Deco Porcelain Figurine
Hi Peter
I have been able to identify the maker for you (and you were absolutely right in your gut feeling as she looks Germanic) as Julius Griesbach (1890 - 1973) of Cortendorf, Bavaria - today part of the city of Coburg-Cortendorf). This factory was bought out by Geobel (of Hummel fame) in 1973.
It took a bit of searching to find out who made this figure. At first I thought this figurine looked in the deco style of Crown Devon (the C was not unlike one of the fonts used in several of their marks).
However, I Googled through this site using the in-house search box and found a previous listing on "Small Crown with 'C'". In this query I had mentioned Cortendorf but there were sadly no photos to accompany, so I couldn't take it any further.
Then I looked at the excellent site
www.porcelainmarksandmore.com
at the Cortendorfer page and didn't see your mark as one of the marks listed.
I then checked with the Kovels encyclopedia and found your mark mentioned under crown marks - attributed to "Julius Griesbach Porcelain Factory, Coburg-Cortendorf, Bavaria, Germany". This mark was used from 1956 - 1973 - thus giving you an accurate date range of the making of your figurine (not actually Art Deco as such - more of a retrospective of that era - which possibly suggests later in that time frame than earlier).
Peter (admin)
p.s. The following page is a 'must see' if you are researching fine china - for value and identification:-
Researching the identity and value of antique and vintage fine china
.
Please post comments below which you think might be helpful……