Chinese Pottery Mark Mystery - Red Square Stamp with Rounded Corners and Chinese Writing Inside
by Murray
(Aberdeen)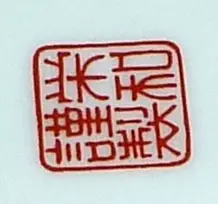 Chinese Pottery Mark Mystery - Red Square Stamp with Rounded Corners and Chinese Writing Inside
Chinese Pottery Mark Mystery - Red Square Stamp with Rounded Corners and Chinese Writing Inside:- I'm trying to find out about this pottery dish that used to belong to my grandmother. I have no idea where they might have got it or indeed how long they had it for. Any help much appreciated.


Murray
=========================================
Please contribute to this thread by writing in the comments section below – just scroll down...
HOW I MADE MONEY FROM BITS & BOBS OF OLD CHINA

.....more
Please post comments below which you think might be helpful……
Also, if you have a piece with this pottery mark let us know what you have - it all adds to the knowledge base.
The following page is a 'must see' if you are researching fine china - for value and identification:-
Researching the identity and value of antique and vintage fine china
Put an Antiques Roadshow Expert in Your Pocket
For an idea of how you can get a ball park idea of the value of any item you might own, go to my
Be Your own Antiques Roadshow Expert
article. It's fun to try it out.