Famous Fiestaware Makers Homer Laughlin Circle Mark on Hotel Ware Pitcher
by Kelley
(Montana)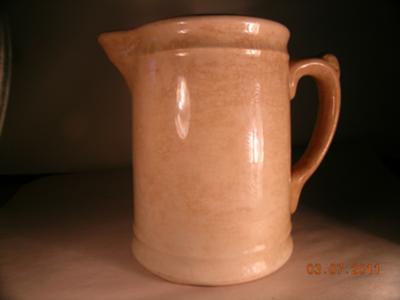 Famous Fiestaware Makers Homer Laughlin Circle Mark on Hotel Ware Pitcher
Famous Fiestaware Makers Homer Laughlin Circle Mark on Hotel Ware Pitcher:- This pottery backstamp is on an old homer laughlin hotel china pitcher or tankard (I don't know what it is, exactly). It was with my grandmother's stuff that was packed away in 1972, but most of the stuff was from the 30's and 40's. I am having a hard time reading the middle number to determine age. I have not seen this piece in any of the research I have been doing. I would like to find out what I can about this piece.


Maybe you can help me, thanks.
Kelley
=====================================
Please contribute to this thread by writing in the comments section below – just scroll down...
HOW I MADE MONEY FROM BITS & BOBS OF OLD CHINA

.....more
Famous Fiestaware Makers Homer Laughlin Circle Mark on Hotel Ware Pitcher
Hi Kelley
Remember to use the in-house search boxes.
This circle mark for hotel wares is shown by my Kovel's Guide to be used from about 1901 - 1915, so the pitcher might be somewhat older than you think.
....But what a marvellous antique pitcher this is. Wonderful color and lovely utilitarian design - made for strength - and whatever the hard-wearing 'semi-vitreous' clay body (slip) Homer Laughlin used on these pieces was, it worked.... and contemporary with the Wright Brothers first flights.
This pitcher is testament to the tradition of quality of American wares from East Liverpool Ohio.
Actually, Homer Laughlin, established in 1877, is an excellent company and the makers of Fiestaware or Fiesta ware which became highly collectible and I haven't yet had the opportunity to write about on this site. So here goes.....
I am interested to talk about this company because they are a classic example of how companies prosper when they properly invest in design, designers and great artwork. Other examples are Franciscan
Pottery, Royal Doulton (c.1900) and Churchill (1990's).
This is a hobby horse of mine, being involved in the ceramics industry most of my working life. Ceramics companies that fail (and there have been a lot of them in the past few years), do so because they are run by people who don't put enough emphasis (and don't begin to understand) good design, how it works and how to stimulate it. It's as simple as that.
The Homer Laughlin company of the 1930's obviously understood how important design was in the profit making process because they took on the services of English pottery designer Frederick Rhead (whose sister Charlotte was also a famous and highly collectible designer). Rhead came up with the Fiestaware line and the rest is history.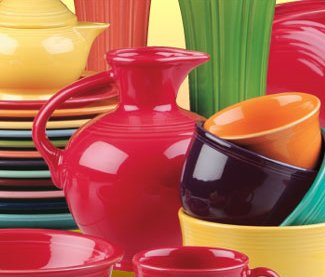 By the way, if you collect Fiesta ware look out for a couple of things...
First check out the pottery marks of any green items you have because if the mark shows it is the original green color production, this line is very rare and sought after by collectors - you may be in for a pay day.
Secondly, watch out if you have a red/orange color because up to 1972, the glaze was colored with uranium and is tested to be radioactive. But don't get too uptight because in 1981 the U.S. Food and Drug Administration declared radioactivity levels to be so low as to not constitute a health risk, but in 1994, test showed leakages of gas to be 7 times higher than is safe.
Anyway, I digress.....
Remember, for valuation and identification advice go here:
My vintage and antique china values page
Peter (admin)
p.s. The following page is a 'must see' if you are researching fine china - for value and identification:-
Researching the identity and value of antique and vintage fine china
.
Please post comments below which you think might be helpful……