Help Identify This Square Pottery Mark with Lines - Photo 2
by DEBBIE
(WHITBY ONTARIO CANADA)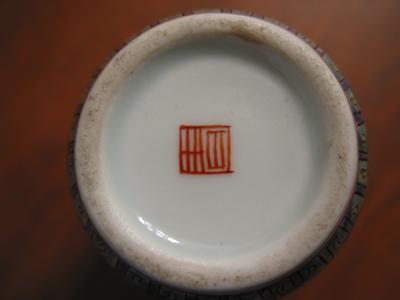 Red Square Pottery Mark with Lines
Red Square Pottery Mark with Lines:- THIS IS THE MARK ON BOTTOM OF VASE..COULD BE UPSIDE DOWN?? CAN ANY ONE TELL ME WHAT WHEN WHERE? THANK YOU MOTHER BROUGHT IT FROM EUROPE IN 1945. BORN IN RIGA LATVIA, RELATIVES LIVED IN ST. PETERSBURG, AND SHE WORKED IN GERMANY, BEFORE COMING TO CANADA.


Thanks in advance...
Debbie
==================================
Please contribute to this thread by writing in the comments section below – just scroll down...
HOW I MADE MONEY FROM BITS & BOBS OF OLD CHINA

.....more
Red Square Pottery Mark with Lines
Reply by Peter (admin)
Hi Debbie
Thanks for your interesting query, I do appreciate the time and trouble you took to contact the site and share. The story about the provenance of the vase caught my attention.
Interesting and distinctive mark. It is not familiar to me and my first thought was oriental, both in the style of the vase of and the mark.
However, I looked up the following categories with no joy, both in Kovel's and Miller's
Foreign marks. There were some Japanese porcelain marks which looked similar but not the same - in particular Fuku. The Meiji period featured red marks of this nature specifically in overglaze enamels, not underglaze.
I also looked up square pottery marks, and marks with lines and found nothing apart from early European makers like Meissen and Worcester used to pay 'homage' to square oriental / Chinese type marks. Some Austrian makers used square marks also, but the lines were thicker.
The vase looks quality to me.
If you want to continue with some more research of you own first go to my page
Value of Antiques & Vintage China - Identification Help Page
. There I have published a page especially to help visitors help themselves which contains all the searching, valuation and identification tips, links and websites.
Let's hope someone with a bit more knowledge of Oriental/Asian ceramics comes along to lend a helping hand.
Peter (admin)
======================================
COMMENTS BY VISITORS BELOW..... (complete with answer from Scott)
======================================