Porcelain Mark "M" over "R" and "N" in box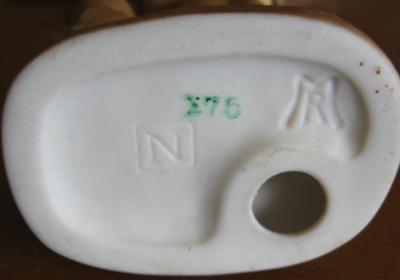 Porcelain Mark
Porcelain Mark "M" over "R" and "N" in box:- Purchased at yard sale in gold county of California. Stands 3 inches tall. That's all I know, can you help with mark? my book of marks does not show this one.


Thanks
Diane
=========================================
Reply by Peter (admin)
Thanks for your interesting query, I really appreciate the time and trouble you took to contact the site and share.
Interesting impressed marks on a 'Hummel' type figure. Not showing in any of my books, I'm afraid - so must be quite obscure. I don't think this is the type of mark an importer from china or Japan would be using - looks European to me.
*****UPDATE*****
Answer has now been found. This is not a European mark as such, but an American mark from a volume importer called Marks and Rosenfeld who, presumably, sourced their goods from all over, including the Far East. This explains why the mark does not look like a Far East mark, but the goods often do have that mass produced (cheap) look to them.

Marks and Rosenfeld were a major US giftware importer and distributor who also commissioned their own range of china and glass ornaments and gift ware using various versions of the M R pottery mark. So despite the German sounding name, nothing directly to do with German manufacturing at all. It is very likely the Hummel look alike wares were mass produced abroad (possibly in Germany, but could have been Japan at that time) and then distributed to the US department stores and speciality retailers.

Whether there is a connection between these Hummel style figures and the similar Arnart figurines imported from Japan over a similar time period, is unknown. In my view it is quite likely the same maker, but this is just a guess.
*****END UPDATE*****
original reply continued.....
However, I could be wrong, so if anyone has any information, please post in the comments section (see below for link).
For general advice on how to either price up your collection or find replacements for it, I wrote this page:
The Searching Secrets To Finding Your China Replacement Online ….more
.
For specific advice on how to 'save a search' on eBay (for pricing or finding your desired item) go here:
How to easily find replacements, prices and information on vintage and antique china online ..... more
Please enjoy all the free resources of this site and welcome!
Best regards
Peter (Admin)