Unknown Mark on Figurine - M & R With a Crown
by Gaynor Lomax
(Brighouse, West Yorkshire, UK)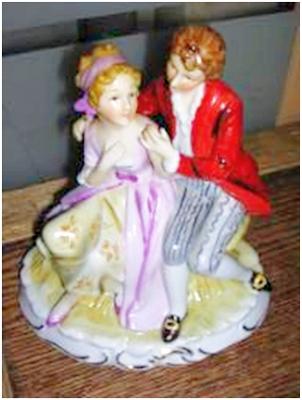 Unknown Mark on Figurine Query - M & R With a Crown
Unknown Mark on Figurine Query - M & R With a Crown:- Hi there, I have just bought a very nice figurine which has a marking on the bottom that I was hoping you could identify for me.. It stands 15cm or 6" tall and has very nice detailed hands.. It has a marking on the base which is a letter M with a letter R underneath it and a crown on top..


With regards
Gaynor
================================
Reply from Peter (admin) below - just scroll down
HOW I MADE MONEY FROM BITS & BOBS OF OLD CHINA

.....more
Reply by Peter (admin)
To:- 'Unknown Mark on Figurine Query - M & R With a Crown'
Hi Gaynor
Thanks for your interesting submission. The answer to your query isn't a glaringly obvious one, but I am sure we can come up with some answers which will help point you in the right direction. Let's look at the clues one by one.
The figurine is very pleasant of course, but, without meaning to be critical and snooty about it, it is not quite in the same league as the English bone china makers I work with. The sculpture work is not quite right, the glaze is rather flat and the finishing is not quite on the mark.
I think also it seems to me 'pretending' to be old rather than actually 'being old' - which, if I am right, is always a warning sign.
*****UPDATE*****
Turns out my comment is spot on - this mark is almost certainly that of Marks & Rosenfeld who were not manufacturers, but a US giftware distributor 1950's and 1960's who commissioned their own range of ceramics and gift ware and used the branding shown above. Use the in-house search box to find a couple of other forum threads on the same mark.
*****END UPDATE*****
original reply continued (read my full report in the comments section below)............
A reproduction of a bygone age should always be clearly marked as such. When I do historic pieces with Coalport or Royal Worcester, the pottery mark is always clearly defined and cataloged, never pretending to be something that is is not. The wares may 'tell a story of the past', making accurate historical references, but may not try to 'pass off' as being antique.
Now to the pottery mark:-
The use of "M R" and a crown is very obscure and not documented in association with any notable makers in my reference books.
However, I did some digging and found an association of "M R" or "M & R" with Limoges firm Raynaud. There is also an 'M and R' sometimes used with one of the marks of Redon, Limoges. The other association of an R underneath an M is the mark of 20th Century English studio potter Reginald Marlow.
What makes me think your figural study is a modern mass produced item - apart from the general look of
it, pleasant though it may be - is its pottery mark.
I noticed sellers on ebay passing this same mark off as "M & R Limoges" (go to my
China Replacement
page for instructions on how to do the same type of research). Now without contacting Raynaud, Limoges (I'll leave that to you!), I very much doubt if the mark has anything to do with Raynaud.
The real "M & R Limoges", as far as my brief research has shown me, is a relatively rare historical mark from French maker Raynaud. I don't pretend to be any kind of expert in European porcelain, however I do know that Raynaud is one of the greatest makers in the history of Limoges.
Here is a brief background, which will let you know why the only type of merchandise you will see associated with Raynaud, Limoges will be of the very top quality in terms of both product and branding.
Raynaud Manufactury
Founded 1849 in Monthovis, the highest point in Limoges, A. Raynaud Et Cie is one of only eleven surviving of the original Monthovis Limoges firms.
Always associated with complex technical innovation and quality, Raynaud have made significant contributions to the ceramic industrial arts, working with the best artists, artisans and designers in France.
Their "tour de force" was the development of fade-resistant decorations techniques still used today by the porcelain manufacturing industry.
The factory still houses one of the original Montjovis kilns - the only one left. Today, Raynaud has over 300 patterns.
Where the "M R" mark came from was the entrepreneur Martial Raynaud who bought Montjovis in 1919. Then, in 1925, the company then went on to become RAYNAUD & Co and began to use the R pottery mark with a laurel branch.
Working with great artist like J. L. Cocteau and Dali, Martial's son Andre expanded Raynaud's international presence.
Family successor, Bertrand Raynaud, has today, written Raynaud's mission statement for the 21st Century - to continue a "tradition, intrinsic quality, timeless, world famous creations, a brand known and recognized as a reference".
Raynaud's concentration has always been on high quality tableware, with little or no emphasis on decorative ornaments. There are some genuine "M & R Limoges" to be found, but your figure is not one of them in my view. So, why use a pottery mark which has a vague association with a famous maker unless it is for the purposes of marketing trickery?
I don't know who made your wares, but if I were you I would concentrate your search in the area of mass producers or smaller, lesser known manufacturers, possibly in the Far East or Eastern Europe.
Hope this information is helpful.
Best regards,
Peter (admin)
p.s. The following page is a 'must see' if you are researching fine china - for value and identification:-
Researching the identity and value of antique and vintage fine china
.
Please post comments below which you think might be helpful……