Pottery Mark on Jug query - Regular Hexagon Device Fashioned into "S t" or Sword Shapes
by andy leadbetter
(melton mowbray UK)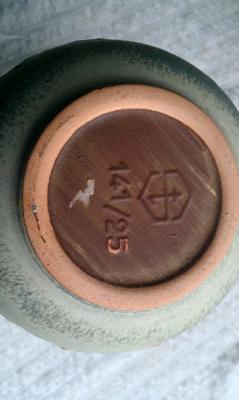 Pottery Mark on Jug query - Regular Hexagon Device Fashioned into
Pottery Mark on Jug query - Regular Hexagon Device Fashioned into "S t" or Sword Shapes:- We have shown this jug/pitcher to numerous people and nobody seems to have a clue as to it origin or even what it actually is. It was in amongst a number of artifacts left in the house my parents moved into in 1969. We would really like to know what the mark is and the country of origin.


Andy
============================
Please contribute to this thread by writing in the comments section below – just scroll down...
HOW I MADE MONEY FROM BITS & BOBS OF OLD CHINA

.....more
The forum Help Elf says:-
Hi Andy
==============================
UPDATE
==============================
Thanks to an anonymous contributor, we have the answer of Steuler & Co. of Grenzhausen, Hesse-Nassau (now Höhr-Grenzhausen) founded by Georg Steuler in 1878.
They were (are?) a makers of stonewares.
==============================
original answer continued below unedited.....
I was very stumped when I saw your mark - couldn't really place the mark or the style of the jug at all.
However, something about something looked familiar.
I then was looking up another query when I stumbled across a mark of Carstens of Tönnieshof (I added it above). They were a massive producer in Germany in the first half of the 20th century - possibly the leading volume brand in the country. They were pretty much wiped out in the second world war, but starting from scratch, came back post war to be the 4th biggest maker - only to die down again and go bump in the 1970's.
They made a lot
of stuff, owned many different plants and had a lot of different marks, I believe.
However, if you look at your mark and then look at the Carsten's mark shown above, you can clearly see the marks are made with exactly the same tooling and have the identical script, and the clay 'body' is the same also (Steingut or earthenware/stoneware).
This suggest the maker is German - and at this point in their history may or may not have been somehow associated with the giant merger happy company of Carstens.
If this is the same maker (and I can't find any references to prove this at the moment), I don't know what the S would stand for unless the S stands for "Steingut". So the 'S t' of the mark mark would stand for Steingut Tönnieshof. But no mention of Carstens on this mark.....?
Normally German marks are based around the name of the town and/or the owner/founder. I know of no town they manufactured in which began with an 'S'. The Carstens family did start their wholesale business in a town called Sleswig-Holstein, but I think that is too far removed to be realistic.
They likely made under contract for other people too though.
This is the best I can do for now, hopefully someone else can help with this one.
For general free advice on how to research your collection, Peter wrote this page:
value of antiques
.
H.E.
p.s. The following page is a 'must see' if you are researching fine china - for value and identification:-
Researching the identity and value of antique and vintage fine china
.