Pottery Mark Query point crown w H and S?? --- figurine of lady stepping out of carriage with horses and footmen
by Lisa
(Southfield, Michigan, USA)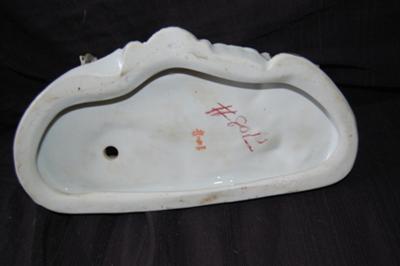 Pottery Mark Query point crown w H and S?? --- figurine of lady stepping out of carriage with horses and footmen
Pottery Mark Query point crown w H and S?? --- figurine of lady stepping out of carriage with horses and footmen:- My mother inherited all the figurines her mother had collected when her mother passed away in 1980. I am unsure of any value, but am more interested in any stories behind them. I doubt they are of any value but do question if she bought them, received them as gifts or maybe someone brought them to her because of where they were made?


Sadly my own mom passed away in 1996 from early on-set Alzheimer's at a young age, so any help she may have been able to provide was minimal. This particular piece is a lady coming out of her carriage, assisted by a man, as the driver sits in his seat. The markings on the bottom is a 5 point crown and a dollar sign? or H and S? I cannot make it out... and 1894?, underneath it #801_ is marked elsewhere in a "china pencil" I think.
On the back there is some marking so faint (looks handwritten then glazed over) but I cant make it out or photograph it either. I used to stare at it when I was little and fantasize I was her, it is such a pretty piece. Can anyone tell me a little about this piece, or where it was made, or what company made it? Surely this has a name or reason, or back story for it.
Thank you for any info you can provide!
Lisa
Please contribute to this thread by writing in the comments section below – just scroll down...
HOW I MADE MONEY FROM BITS & BOBS OF OLD CHINA

.....more
Peter (admin) says:-
Dear Lisa
Your telling of the beautiful story of your childhood imagination is one that really highlights the power of art, and in particular ceramic art. We
look at something so permanent and yet so fragile, and it reminds us of ourselves. There is a magic, and what most people miss is that 'magic' is what the core if this website is all about.
So thank you for your wonderful contribution of the story of your Mom's collection and the affect is had on you.
Now onto the story of this wonderful figural group. The photo of the mark is rather distant and blurred, but I can see it corresponds with a mark used from around 1866 by a German company called Carl Schneiders Erben. They redesigned the mark of the previous owners Unger, Schneider & Cie.
Now, its hard to tell from the photos, and the backstamp itself is also somewhat smudged, but if it is Carl Schneiders Erben, the mark should show the following:-
A crown showing two horizontal bars and a slightly raised center ornamental vertical.
Below this a capital letter 'G' (for Gräfenthal, the town where the factory is based).
The 'G' has two horizontal lines which look somewhat like a capital H.
Under this is the year 1859 which represents the date the original Unger, Schneider & Cie factory was established.
Here is the mark photo courtesy of www.porcelainmarksandmore.com where you can read the full story of this lovely old factory, and see how it survived into the current day.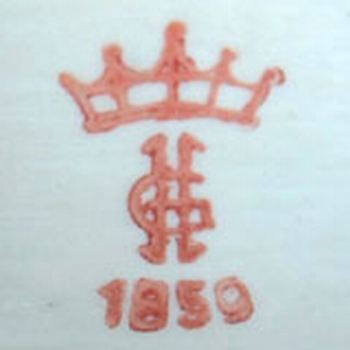 I think your figural group was made in the 20th century, although I don't know for sure how long this version of the mark was used for. They used a slightly revised version of this mark after 1951 according to pm&m, so it must be before that date.
Hope this tells you at least some of the story of your Mom's collection.
Best regards
Peter (admin)
For general free advice on how to research your collection, I wrote these pages:
My vintage and antique china values page
value of antiques
.