THE ANSWER TO WHOSE POTTERY MARK IS THE GREEN DOUBLE "P" BAVARIA
by Peter (Admin)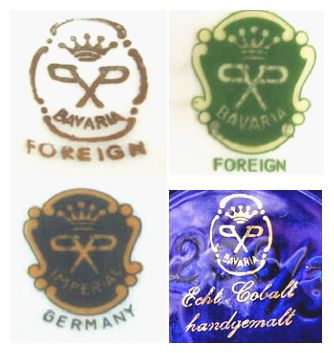 Porzellanmalerei Parbus
Bavarian Porcelain Decorators 1904 - c2005

Pictures Courtesy of www.porcelainmarksandmore.com
THE ANSWER TO WHOSE POTTERY MARK IS THE GREEN DOUBLE "P" BAVARIA OR IMPERIAL


By Peter (admin)
Kate wrote in to ask about the
GREEN DOUBLE "P" IMPERIAL mark(above). Click here for original query
.
====================================
Reply from Peter (admin) below - just scroll down
HOW I MADE MONEY FROM BITS & BOBS OF OLD CHINA

.....more
GREEN DOUBLE "P" BAVARIA OR IMPERIAL POTTERY MARK QUERY UPDATE:
I didn't know the answer and gave Kate a run-down on the two notable "Imperial" Germans listed in my books.
However, we have now been given the right answer thanks to helpful visitors.
The mark is that of
Porzellanmalerei Parbus
, a small decorating studio in Oberkotzau, Bavaria, Germany, started in 1904 by Leni Parbus and continued by her son Erich in 1955. The Porzellanmalerei Parbus studio was still known to be producing wares in September 2005.
I have an in-house search engine located on my home page (and on many other main pages) for you to check for answers to any other queries you may have.
Best regards,
Peter (admin)
p.s. The following page is a 'must see' if you are researching fine china - for value and identification:-
Researching the identity and value of antique and vintage fine china
.
Please post comments below which you think might be helpful……