Two marks on white piece of Meissen porcelain - Incised Weiss OR Weifs
by Justin P.
(Exton, PA, USA)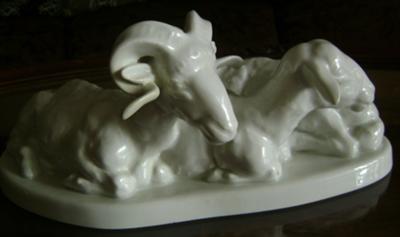 Two marks on white piece of Meissen porcelain - Incised Weiss OR Weifs
Two marks on white piece of Meissen porcelain - Incised Weiss OR Weifs:- I had this piece in my house for a while, I bought it in an antique shop. The figurine has three sheep all laying together. I know the blue mark on it was used from 1947-1973. The thing that really throws me of is that the incised mark was used on glazed pieces of white porcelain in 1900. What throws me off even more is that the incised mark looks like the one used from 1825-1924. The figurine measures 10" long and 5" wide.


What period do you think this piece is from?
Justin
Please contribute to this thread by writing in the comments section below – just scroll down...
HOW I MADE MONEY FROM BITS & BOBS OF OLD CHINA

.....more
Two marks on white piece of Meissen porcelain - Incised Weiss OR Weifs
Hi Justin
Many thanks for sharing your wonderful item. All I can say of your item is when you see quality it smacks you right in the face it is so obvious. What beautiful work. Quite breathtaking!
I am no expert in Meissen, but I saw a similarly marked item selling at Christies for over £1000 USD. I was a seated tailor and very crisp in detail (more so than your group). Their description was "A Meissen white group ....
1912-1954, BLUE CROSSED SWORDS MARK, IMPRESSED CROSSED SWORDS MARK ABOVE WEISS, INCISED..."
I don't know how much you paid for it, but if you need the help of an expert, you can't do better than to use my own
expert liason service
.
Peter (admin)
p.s. The following page is a 'must see' if you are still self-researching fine china - for value and identification:-
Researching the identity and value of antique and vintage fine china
.
Please post comments below which you think might be helpful……