Carlsbad Porcelain Tableware Black Crown Porcelain Mark
by Pam
(Ellicott City, MD, USA)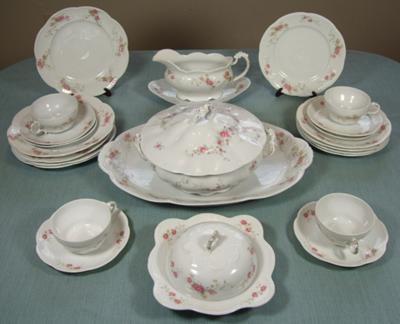 Carlsbad Porcelain Tableware Black Crown Porcelain Mark
Carlsbad Porcelain Tableware Black Crown Porcelain Mark:- I have a set of dishes that belonged to my great grandmother. I've spent years trying to find information about them, but no luck so far.


The back stamp is a black 6 point crown with the name "Carlsbad" below it. The front is a pink floral pattern with green leaves. The edging on the pieces are raised.
I've sifted through thousands of porcelain marks, but none match the one I have. Even companies that replace vintage porcelain dishes don't have this pattern or stamp.
Someone help me please!!
Pam
=============================================
Carlsbad Porcelain Tableware Black Crown Porcelain Mark
Hi Pam
Help is at hand. Pull yourself together and read on. Base your further research on what I know - which is more to do with looking at clues. That's the good news.
The bad news is, even amongst experts, this mark has to go down as unidentified. It is one of those marks which are so general as to be useless in identifying the maker.
A crown with the word 'Carlsbad' is not much to go on as Carlsbad is a center for porcelain production in the same way as Thuringia or Bavaria or Dresden might be - with many makers all using a wide variety of marks which include the archetypal crown and the word 'Carlsbad' in many different variations.
As you have found out, your mark is not shown in any references, either on or offline.
There is one very similar pottery mark though with a 5 point crown and the country of origin noted as 'Austria'. See
www.efineantiques.com/webpages/fine_porcelains.htm
which lists your mark as "Carlsbad Austria (unidentified) Possibly Carlsbad China.". Carlsbad China it identifies as :-
"Carlsbad China of Altrohlau, Austria. This decorating studio was in business c.1880-1910. (Source: Marks on German, Bohemian, and Austrian Porcelain, by Rontgen, page 454). We haven't been able to find this particular Carlsbad China mark, but assume it is the same Carlsbad China."
Hmmm... not so sure myself as there are many other possibilities, I feel.
Carlsbad or Karlbad is set within an area rich with natural deposits of kaolin (used for the production of porcelain). The town is within the region which used to be known as Bohemia within the Austro-Hungarian Empire.
Shortly after Bohemian porcelain began in the 1790's (in the town of Klösterle - today Klášterec) production was also begun in the nearby town of Carlsbad which is today
is Karlovy Vary in the Czech Republic.
One of the most important clues to age this mark is the absence of the country of origin (at least you have not mentioned it), which dates the service to before 1890 if it was an official US import through the normal commercial channels.
One of the main contenders for ownership of this illusive mark is the Carlsbad or Karlsbad Porcelain Factory, founded in 1842 - also known as the Carl Knoll Porcelain Factory of Rybáre, Czechia (Fischern, Bohemia, Austria)
Another maker who can't be discounted as the originators of this pottery mark is Straus & Son. In the 1880's a German company called Straus & Son of Rudolstadt, Thuringia had a shop-in-shop within New York's Macy's deparment store.
They formed a US branch to handle this US trade which was called the 'New York and Rudolstadt Pottery Co. Inc.', founded 1882. Later they saw the opportunity of the rich natural deposits in Carsbad, Austria and opened a studio and distribution center there.
They must have being doing well because in 1895 they bought Macy's store outright. The different subsidiaries of this vibrant concern used their own various marks, not all of them catalogued.
Another firm selling to the US before the country of origin act and were definitely catalogued as using a crown mark and stemming from the Carlsbad region was Bawo and Dotter who basically decorated blanks at their studio in Fischern (which was then in a region known as Bohemia now called Rybáře, Carlsbad in the Czech Republic). They also had offices was in New York to handle the importation trade of fine porcelain china.
Another Bohemian firm from that region who also used the word Carlsbad or Karsbad on their marks were Becher & Stark (Schwalb Brothers) of the Zettliz Kaolin Works in Merkelsgrun Bohemia, Austria. Benedikt & Friedman were the USA importers. They were founded in 1868.
Another name assocated with this area is Duxer or Royal Dux in the town of Dux, today known as Duchcov. There are no records to show this mark is associated with them, but as with any of the companies mentioned above, they could have made under contract for US importers.
Other makers from Carlsbad who fall outside (after) the US country of origin 1890 act are:-
Higgins & Seiter, New York importers from 1891
Egerlander Porcellanfabrik Elbogen founded 1907
Josef Kuba of Carlsbad founded c.1930
Best regards
Peter (Admin)