Mystery jug with horseshoe red stamp Etruria and G & S or GSH & Co or SGH or HGS or GHS
by Debra Rowlands
(Sparta, Tn. USA)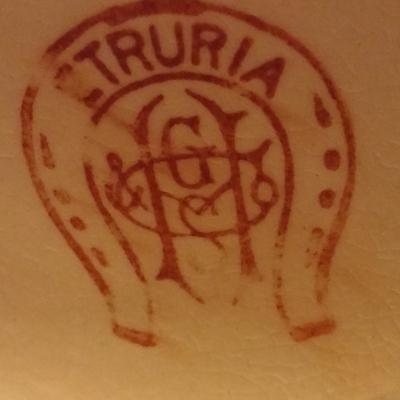 Pottery mark on Jug - G & S or GSH & Co or SGH or HGS or GHS
I bought this beautiful jug at auction for $2. The auctioneer said it was Johnson Bros. but I looked at it immediately when I got my hands on it, and it has a horseshoe, with the word 'Etruria" at the top, on the horseshoe itself, then an elaborate G & S along with other marks in the middle of the shoe. I have looked and looked online for weeks now, trying to find out what this actually is. This little piece came from South Caroline, from an estate that was given over for auction.


I don't care about the value....it cost $2. But I would really like to know what I actually have.
I went to auction again this week. I was mesmerized by a little gnome figure (I love them) and bought it for $4. Came home and looked, asked, and it is a Heissner. I also bought a cast iron doorstop for $11, and discovered it is a Bradley and Hubbard art deco piece. I also purchased a 30's floor lamp, which I am still researching, with alabaster trim above the base, and actually has a light there as well. It has like a candelabra at the top with 3 lights, and then a large mogul light in the middle.I am giving this to my daughter and son in law to refinish and restore to its former glory.
All in all, it is fun and sometimes very exciting. I wish I did not like stuff so much!!!
Debra
----------------------
Hi Debra
Nice mystery!
Does it say? . . .
G & S or GSH & Co or SGH or HGS or GHS
Horeshoe shape
Etruria is a region of Stoke-on-Trent or more precisely a valley where Wedgwood built a big plant. However, there were numerous smaller makers located there too.
But, not this one that I can find.
I got GBO and looked at every possibility in my Godden's encyclopaedia. Nothing!
Let's see if we get a clever passer by who knows more than us!!
Please post if you have this mark also.
Best regards
Peter