Unusual 8-Pointed Dark Green Bowl "D Mar N 625"
by Mark
(Los Angeles, CA)
Marked D Mar N 625
Hi there everyone.


My name is Mark and I have been attracted to lovely and interesting pottery and ceramic objects for a long time.
As a child, my grandmother had a lovely set of Winfield China from California, which I still have. I was delighted to see the same set being used in the Alfred Hitcock film, Vertigo with Kim Novack and Jimmy Stewart, as proof of her good taste!
I remember when a friend from Vermont came by my place in Los Angeles and identified some pieces of Vermont pottery that I had. It was the first time I began to think about pottery, its origins and its relation to various places in the country.
I am a native of the east coast but have lived in California in many years. I first began shopping for pottery and ceramics in thrift stores in desert towns outside of Los Angeles, California where great finds can be had.
I began to realize that California had a long and vital tradition as a center of pottery and ceramic manufacturing by reading the makers' marks on various pieces and researching them on line. I came to realize that Southern California, in particular, was a historical hotbed of pottery manufacturing.
I often discover pieces in different neighborhoods in Los Angeles, California, near where some of the pieces may have been manufactured originally.
I own some guest houses and began using pottery pieces as decoration in the homes, bringing much appreciated color and light into the homes I finally began to sell some pieces on line, bringing my appreciation of these craftsmen and women's work to a larger audience.
One by one, my knowledge has grown as I have discovered and shared each piece. My favorite pieces include Pacific Pottery, Vernon Kilns, Bauer and Franciscan Ware, Maurice of California, and N. S. Gustin.
I also have pieces by Paden CIty Potteries and Homer Laughlin, but prefer to concentrate on the historical California potteries when possible.
I have been able to identify most pieces by researching them on line, but
occasionally I have been stumped. If it seems like a newer piece, I'm not too frustrated because of course the maker, especially if it is an individual, may not yet be recognized.
I recently started an Instagram account focusing on pottery and ceramics and have really enjoyed seeing new and other vintage pieces and learning more of how pottery and ceramics are made.
The videos of pottery pieces are amazing and the process of throwing and spinning clay, and firing the pieces in a kiln, seem almost magical.
After moving recently, I realized my pottery collection had outgrown my home. As an outgrowth of collecting pieces to decorate guest homes, I have started an online Etsy shop: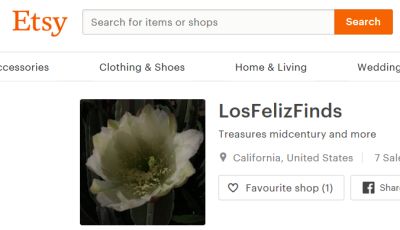 www.etsy.com/LosFelizFind
and have had good experiences selling Hall ramekins, an antique crock bowl, and a set of Pacific Pottery dishes.
The piece in question seems to be a rare, vintage ceramic bowl in excellent condition with lovely, unusual, dark green glaze and eight hand-pulled points.
The maker's mark appears to read: D MAR N 625. There are two minor chips in the glaze as shown in the photos and some wear on the base appropriate to the age of the piece.
It is approximately 10 1/2" in diameter and 2 5/8" high. I found it in a thrift shop in Southern California a couple of years ago.
I would greatly appreciate any opinions as to the meaning of the maker's mark, and the origins of the piece. Thank you everyone, and have a great day.
Best regards
Mark
--------------------------------
Hi Mark
Thanks for a lovely insight into what led you to opening your Etsy shop. I took a look - very nice items! Good luck with it, I added a link.
I don't know this mark, but my betting is some clever person will be able to help us out before too long.
I have tried to blow up and enhance the image of the D Mar N 625 marking...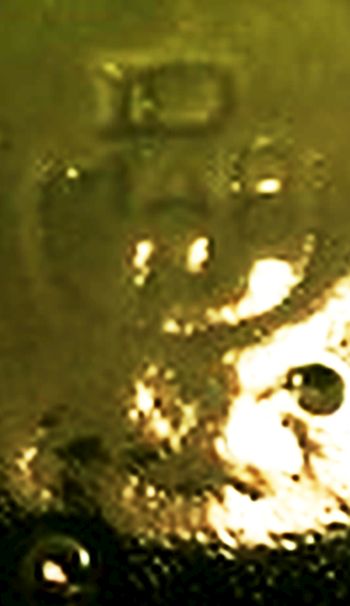 Please post if you have this mark too or you know who this is.
Best regards
Peter (admin)