Antique sculpted vase with just 2 flower stamps and a number
by Lisa
(Toronto)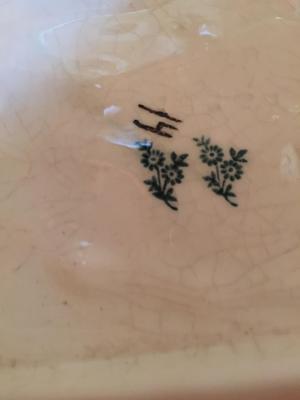 Signature mark
Hello.


I am so appreciative of a site where others take the time to help identify pottery signatures.
I am retired and of the age where the higher branch of the family tree is dying off. In the past year, my husband and I have inherited some very old china, porcelain, and pottery pieces from relatives.
In trying to find out their history, I realized that many of the antique stores and dealers in the area have shut down.
I learned that the branches beneath us have little interest in collecting things. I wondered why and was able to find some good articles on this.
Today's younger generation members are buying houses and condos that are very tiny and ridiculously priced. Many of the new homes do not have formal dining rooms or large living rooms in which to display items from long ago.
This generation consists mostly of two working parents who set their lives up for convenience. All of their possessions are both microwave and dishwasher safe. They prefer to shop at the low-priced Swedish box store and decorate with items that are "cool", modern and that make a statement about their individuality.
Because of this overall downsizing of environments, the last thing they want is a truckload of "old" things that hold no meaning for them. Consequently, there are several dealers sitting on large inventories of beautiful antique pottery etc. with no target market other than the few collectors left of our generation.
This being said, we went to visit my husband's 97 year old Aunt today. She lives a couple of hours away from us.
Since her home is quite cluttered, I hadn't noticed this piece at the back of a table before today. My husband is 60 and remembers this piece from when he was a child. Our Aunt said it belonged to her parents.
I have been scouring catalogues, searching all over Google for this stamp and have also utilized your search tool, but to
no avail.
The stamp is of two very neat little black flowers with leaves and the number 14. Sorry I didn't get a full photo of the bottom of the vase but I can assure you there are no other marks, impressions, engraving, letters, or numbers other than what you can see in my photo.
This is a rectangular shaped vase which stands approximately 17 or 18" high. There are no chips or flaws on the piece. As I've recently become curious about antique pottery and china, I would love to know the name of the artist or manufacturer who only signed it with these two flowers. It would be most interesting to find out what year it was made, in which country, and also to see other works by the same artist or manufacturer.
This vase is quite attractive and I think it's made of ceramic or pottery or china. I'm an amateur and don't really know how to tell the difference.
I asked our Aunt what the man on the vase is carrying and she said he's a sailor bringing his sail home after being on his boat. He's wearing a rain hat and wading boots.
I scoured my Aunt's house to see if she had any other interesting hidden pieces but this was the only one that caught my eye.
My Aunt's grandfather built the house she has lived in from birth until now. She has not changed much about the house in all these years. It still contains the furniture from her parents, although most of it is damaged, rotting, or falling apart. But this vase has remained untouched and in tact for all these years.
It's not easy to find 600 words to describe a single item but, Yay! I think I've done it.
Any help you can give me in identifying this piece will be very much appreciated. Thank you for taking the time to read this and for the opportunity to make this submission.
Lisa