Dresden Art Mark with initials WR and cursive device
by Charlene
(South Africa)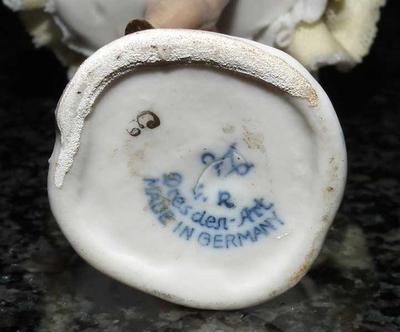 Dresden Art Mark with initials WR and cursive device
Hi, My name is Charlene, and I live in South Africa. I have never really been interested in figurines and old china, except for one little ballerina! For me, she was the most beautiful little doll that I had ever seen. From my very first memories, this little ballerina lived in my Mom's glass treasure cabinet. I was never allowed to touch any of the content of this cabinet.


I have no idea at all where the little ballerina came from, or how it came to live in the glass cabinet. Sadly, my Mom passed away 18 years ago. Along with all the other painted plates, vases and figurines, the little ballerina came to live with me.
Over the years, all the other pieces left to live with children, except my little dancer. I am moving home again, and went to pack the ballerina.
Curiosity got the better of me regarding the marking under the ballerina. I searched the internet to see if I could find another identical ballerina or the same marking underneath.
To no avail.
Then I found your site, read many of the pages of information so kindly provided to assist in the identification of treasures, but I could not find anything similar to the mark I have.
I would love to learn a little about my ballerina.
How old is she,
where did she come from,
who made her?
I really hope that with your expert knowledge, you will be able to shed a little light on my ballerina!
Thank you
Charlene
=================================
Reply by Peter (admin)
To:- 'Dresden Art' Mark with initials WR and cursive device
Dear Charlene
Lovely story.
I have good news. I can answer all your queries about your little ballerina.
How old is she? She was made between 1950 and 1974
Where did she come from? A town called Kups, Bavaria Germany.
Who made her? The Wilhelm Rittirsch factory made her.
The Wilhelm Rittirsch factory was first established in post-war Bavaria, Germany in a town called Kups in 1950 and survived for 24 years, going out of business in 1974.
This company, like many others not from Dresden used the term "Dresden-Art" as a marketing term, to try to take advantage of the demand for Dresden style products after the city and surrounding area had been destroyed by the Allied bombers.
Not much else is known about this little factory, but continue your search from here.
Best regards
Peter (admin)