Empress China "Hand Painted Japan"
by MSfromtheOC
(Irvine, CA USA)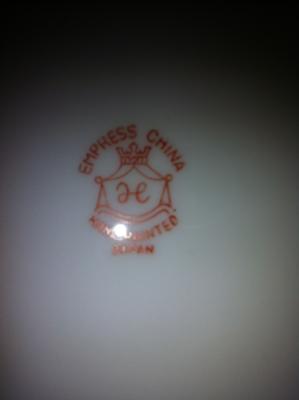 Empress China
We received a set of dishes from family members, the set is a beautiful floral pattern with a gold rim. On the back is a maker's mark that I would describe as follows...


At the top are the words: "Empress China" and long the bottom of the mark it says"Hand Painted" and "Japan"
The center of the mark looks like a stylized H, but you can see it better in the photo. I'm guessing that this is from post-war Japan, as it's in English and not Japanese, but not sure.
Any ideas would be appreciated.
Thanks,
Michael
Please contribute to this thread by writing in the comments section below – just scroll down...
HOW I MADE MONEY FROM BITS & BOBS OF OLD CHINA

.....more
Empress China "Hand Painted Japan"
Hi
Many thanks for your contribution to the website.
Probably post-war, but check on Gotheborg.com. Empress China may be one of the hundreds of marks of Noritake, but I am not sure.
Peter (admin)
p.s. The following page is a 'must see' if you are researching fine china - for value and identification:-
Researching the identity and value of antique and vintage fine china
.
Please post comments below which you think might be helpful……