Looks like DECRO, with gold lettering on a gold ribbon banner
by Sonya Casner
(Jeffersonton, Virginia)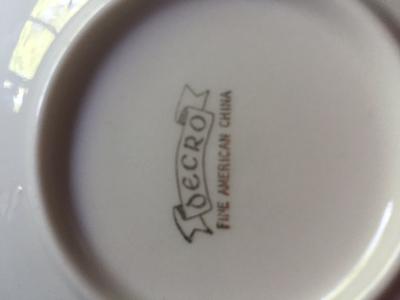 Looks like DECRO marking
I recently "inherited" some china items from my mother-in-law that belonged to her and her mother-in-law. Cleaning out their house due to the in-laws having recently moved to assisted living quarters in Florida resulted in my becoming the proud owner of many beautiful old, and new, pieces of china.


This particular piece is the only one left of a set of eight. An anniversary gift to my in-laws, it is a fine china "saucer", to be used as a coaster. Four inches in diameter, it was personalized with "The Casners" in black script on the face. My mother-in-law absolutely loved these coasters but being as delicate as they were (are) they broke quite easily. Now that my husband and I have the last surviving coaster, I thought it would be wonderful to try to have more made.
Then I went looking at the mark.
I thought it looked like "Decro" printed in gold across a ribbon banner and the words "Fine American China" underneath. So, like most people with access to that amazing thing called Google, quickly decided a Google search would make short work of my query and I'd be well on my way to having duplicates made.
Boy, was I wrong.
I guess it doesn't start with a "D" as I can not find a single manufacturer online that goes by the name "Decro". As you can see, the first letter of the mark is a bit odd looking, so I even thought maybe a Gaelic, Celtic or Welsh twist on the name (to be different or interesting?), even though it states "Fine American China". But even searches of those alphabets came up short as the first letter of my mark doesn't really look like anything I could find.
I know it's not "old" and that has me completely stumped as to why I can't locate the manufacturer or identify the mark. The one thing all my searches DID come up with was a link to this site, and I am SO hoping you can help me out!
Many thanks,
Sonya Casner