Playful Moments Collectible Plates?
by Lyndsay Rodgers
(Harrow,Ont, Canada)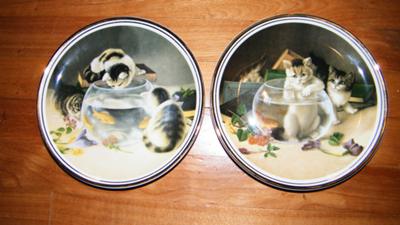 both plates - Playful Moments Collectible Plates
Playful Moments Collectible Plates:- Does anyone know if Royal Vale issued a collection by the name of 'Playful Moments' Collectible Plates? I saw a plate on E-bay listed as Royal Vale and I have 2 from this series as well. They are of the sub-set Delightful Kitten Series. The manufacturer's name has been removed at some point as you can see in the picture. If it isn't Royal Vale, does anyone know what it is and an approximate value?


Thanks in advance for any help.
Lyndsay
Please contribute to this thread by writing in the comments section below – just scroll down...
HOW I MADE MONEY FROM BITS & BOBS OF OLD CHINA

.....more
Playful Moments Collectible Plates?
Hi Lyndsay
Many thanks for submitting, and hope you are finding the site useful.
Knowledgeable contributors please try to help with this one (check out the comments section below for replies).
If you don't want to wait that long, you can
fast-track your pottery mark answer by clicking here
.
For valuation advice go here:
My vintage and antique china values page
For general advice on how to either price up your collection or find replacements for it, I wrote this page:
The Searching Secrets To Finding Your China Replacement Online ….more
.
For specific advice on how to 'save a search' on eBay (for pricing or finding your desired item) go here:
How to easily find replacements, prices and information on vintage and antique china online ..... more
Best regards
Peter (Admin)
www.figurines-sculpture.com
(This is Peter Holland's bigger site covering all aspects of fine china making)
www.figurinecollect.com
(These pages show Peter's new English made bone china figurine collection)
"Did you know?... the most popular pages on the site are..."

IDENTIFYING POTTERY MARKS ....more
CHINA PATTERN IDENTIFICATION ....more