Pottery Mark Query - Blue anchor (inc cross, crown and orb)
by Matthew Baines
(Sussex)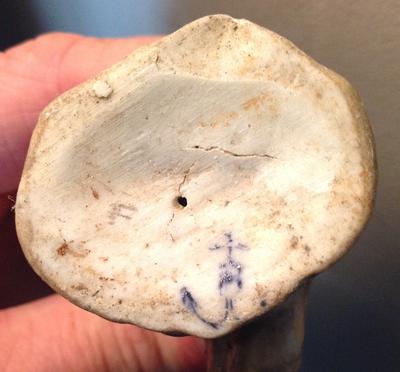 Blue anchor mark (inc cross, crown and orb)
Found a pretty blue bird statue in the garden, dug up by the builder along with lots of old bottles, boots and cow teeth! On the base is a blue anchor with what looks like a cross on top then a crown then an orb. The letter F is impressed into the base.


Matthew
================================
Reply to Matthew's Post
By Peter (admin)
Hi Matthew
Nice post - interesting thing to find in the garden.
Could have done with some more details like how you managed to uncover it without it being broken in bits etc etc.
There are many makers using anchor marks, from USA, Europe, England, Japan, China, some dating as far back as the 18th century and some modern day and everything inbetween. So quite a tricky area to research.
All the makers marks have slightly different interpretations of the anchor graphic.
The closest I could get to this type of anchor was German company Ernst Bohne & Söhne who used a similar mark from 1878 - 1900. They often had EB impressed into the base too (not 'F'). Their blue anchor mark had a circle on top, which is missing from yours, otherwise it's quite a close match in shape and detail.
However, the modelling and decoration of your bird figurines looks too course for these fine porcelain makers, where the base would also be finished in a a fine porcelain glaze. The birds would also be modeled and painted to a higher spec than your bird. Also, I don't recall them doing many birds, that was the territory of Karl Ens, who I don't think used an anchor mark at all.
The modelling and decoration on yours looks like Japanese post war production to me. A bit rushed and a bit simplistic - a mass produced product for quick turn around.
However, I have been known to be wrong, so I would very much appreciate any comments from others who have any info on this interesting find amongst the cow teeth.
Peter (admin)