Stoneware Stein Pitcher with Mystery Makers Mark of a triangle with a pot and other motifs inside it
by Leanne
(Texas)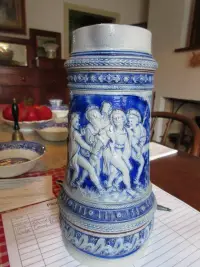 Stoneware Stein Pitcher
Hi Peter


Hello everyone! I am Leanne and I am very new to the world of pottery. I am from Texas and have quite the mystery on my hands. Hopefully this is just a mystery to me, and someone on this site can tell me all about my pitcher and its makers mark.
I am new to stoneware and other types of pottery, but I am trying to learn as much as I can, as quickly as I can. I have started a project cataloging every artifact housed in the museum that I work in.
Seeing how this museum is structured much like a house museum, only with a total of 18 different buildings, I have a very large project on my hands.
Many of the buildings are old homes and we have furnished them in a contemporary style. This means that many of the homes have cabinets filled with china and other stoneware and the tables are set as if the family is getting ready for a party.
And with my infantile knowledge on this area of material culture I have been having quite the time trying to figure some things out.
Thankfully, I just found this site and it is a godsend!
The museum I work at strives to conserve and celebrate the heritage of our town (a German settlement in Texas founded in the early 1800s).
I am currently going through all of our artifacts and researching their history. This site has helped me tremendously with the large amount of stoneware that we have. I don't know what I would do without all of you.
And rest assured that because of this extremely large collection that we house, I will be here many more times. I have no doubt that I will have many more questions that I will come here
with begging for help. And as I learn more (which I have much to learn) I will do my best to assist with everyone else's inquiries.
Anyway, my current mystery is an earthenware pitcher. The pitcher is blue and white (well more tan than white). It is decorated with raised carvings in the pottery that has then been painted.
In the center there are four men drinking in a field. The men are surrounded by a beautiful archway and on either side of the arch there are some ornate carvings with a cherub on top.
The makers mark has left me completely baffled. It is what I presume to be an urn inside of a triangle. Under that is the number 341.
I have provided two images of the mark, per the sites request. The pictures also show another number/letter combination that has been written on a label.
I assume that this is from another museum's cataloguing effort or possibly from a store. Unfortunately, we have no documentation to go along with this piece, so any previous research or cataloguing information is lost.
I do not know what to make of this piece and mark or how to proceed from here. I am hoping that some of you wonderful people can help me out.
The lack of information on where this pitcher came from or who it belonged to before is upsetting.
I wish I could provide more information on this piece, but I simply do not have it. Any help that anyone can provide will be greatly appreciated.
I really do not know much about pottery, but this project of mine is making me learn fast!
If anyone has some tips on other sites or books that may be of use to me, please let me know!
Thank you all so very much!
Leanne