Villeroy & Boch Vase "V&B,M" Marking
by Hec Stephens
(NY, NY.)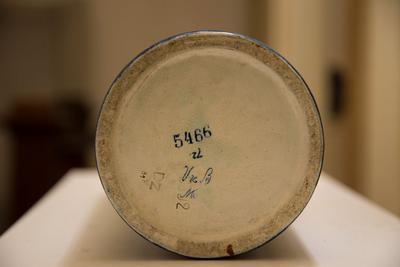 Villeroy & Boch Vase
Villeroy & Boch Vase "V&B,M" Marking:- I have a Villeroy & Boch vase which has been in my family for many, many years. It was handed down to me after my mother passed away 10 years ago. She received it from her sister in-law over 66 years ago. I suspect it is much older than that. So far I have identified only the "V&B,M" logo. I got lucky one day doing some research and found a beer stein online with the very same logo.


Hence, I determined my vase was produced by Villeroy & Boch at Mettlach. My problem however is identifying what year the vase was produced. There are other marks on the bottom of the vase, such as 81,72, 5466, 3302 and DZ.
I don't know what these marks represent or what they convey as to the creation of the vase.
Thus far not knowing anything about antique vases, I have found the research fascinating.
It's been quite intriguing, tedious and a bit of fun playing "Sherlock Holmes" and the "Mysterious Vase". At first I thought it may be worth a few dollars. But even if it isn't, I have found a whole new world of interest in collectible vases.
Prior to this I had never given any thought to such items. Every now and then I enjoyed watching The "Antiques Roadshow" on PBS. But now I am becoming a devoted fan of the craft.
Any additional information will be greatly appreciated on discovering the full identity of my Villeroy & Boch (V&B,M) vase.
Regards
Hec
==================================
Reply by Peter (admin)
Hi Hec
I think I can most certainly help you with the date of this item.
I did my own sleuthing - no mean feat as the V & B marks always covers at least 12 different sections of my Rontgens Dictionary of German marks (and that's just the Mettlach factory) each of which have to be looked through with a fine tooth comb.
Anyway, I finally found your mark near the end of the book in the "Initials & Letters" section, and this mark was used on Delft earthenware type wares from 1885 to 1900.
So late 19th century is the nearest date you are going to get as the other markings are likely obscure production marks no longer generally known or recorded.
Hope that's enough for you.
Best regards
Peter (admin)