3" rose and green glazed pitcher "paul lee" OR "gaul lee" OR "jaul lee" OR "saul lee" pottery
by Corinne resca
(Salem mass)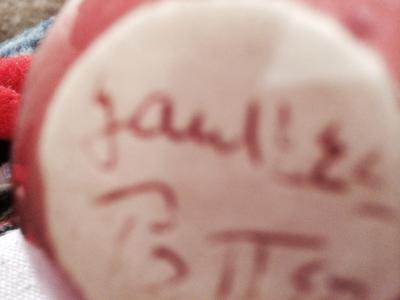 "paul lee" OR "gaul lee" OR "jaul lee" OR "saul lee" pottery OR jug OR pitcher
Hello Peter and all


My name is Corinne and I love to shop in antique and thrift stores always looking for that special thing that calls out to me. I love antiques and although I have so many , I don't really know much about value .
I do enjoy investigating and learning about my treasures and most of the time I have good luck identifying them . I love to decorate my home , which this year I chose the " shabby chic" style.most of my finds are of the victorian period and I love anything pink!
I am an artist and I feel I have a good eye for beautiful things ..while doing my thrift shop thing last month I swayed away from my usual victorian style when I spotted a 3 inch pitcher.
It was pinkish! Right up my alley! My eyes caught it for a moment and I passed it by and continued on .. It wasn't victorian .. At least I don't believe so.I picked up a couple of things and as I was about to leave I glanced to my side and caught view of it again.
I decided I needed to have it I loved the petiteness of it and it was such a pretty rose color with a green glaze over it. It had no price so the salesman let me have it for a dollar. Upon taking it home I tried to research it on the internet and could find nothing. I really can't understand the signature at all although it is pretty clear . It looks like it says either gaul lee potter or jaul lee potter to me but others may see it differently.
I uploaded photos and I hope they are clear enough. I am hoping someone can tell me not only the name of the artist but even maybe someone knows a little about the piece as well. Whether or not I find out I love my little
Rose color pitcher ..
I think it's beautiful both shape ,size and color.
Thanks so much and I look forward to any feedback. -
Corinne