A Grafton China Mystery
by Abi
(England)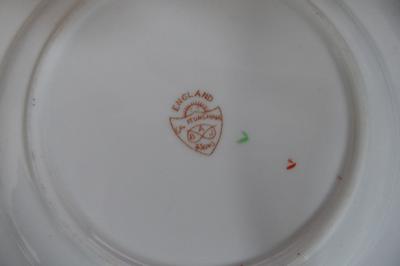 Grafton stamp
In my local town is a delightful Aladdin's cave of a shop. The old gentleman who runs it operates house clearance with his family. He doesn't believe in displaying things. Rather, you must wade through tottering towers of furniture, stacks and shelves of books, and miscellaneous boxes full of stuff.


It's a wonderful way to spend an afternoon, digging through things of no interest for treasures that make your heart thump a little harder.
Today, I came across some plates that looked very much like a decorative one my mother had.
Six were marked clearly with the printed stamp of Grafton potteries, with England written above the sun as it peeks over the shield.
From my research, this puts the plates at post-1930s. However, despite hours of hunting online, through this site, information on Grafton potteries and endless scouting on china replacement catalogues, I have been unable to identify the design. The closest I've come is a Royal Albert Vintage pattern (#4250), but I've had no further luck.
The border of the plates is decorated with a narrow band of coppery brown, embellished with something similar to mistletoe leaves and berries.
Narrow gilt detailing frames and decorates a wide band of (gorgeous) dark blue. Roses (or possibly peonies) of soft orange bloom down into the plate well, surrounded by swags. There is also some minute geometric detail, as well as green leaves and fan shapes, all on a white background.
Each plate is about 16cm across, and there is a beautiful amount of detail in them. The colours are not very faded, and though there is some running on the gilt work, they still present a wonderful picture!
Considering the distinctive shape of the plates (a square with its four corners inverted into curves, not scalloped but something similar) I had hoped for a more successful search. However, I had no luck putting a name to the design that has resonated so strongly with my memory and captured my imagination.
There is also is a second mystery. Along with the Grafton plates was another piece, hard worn and similar in design, but undeniably different.
There was no stamp on the bottom, but with much tilting to the light and eye strain, I was able to discern the words "Made in England. Bone China".
Its colour scheme is very similar, with additional green and yellow flowers added to the roses and peonies. Garlands of leaves replace the festoons, along with dot work. To me the design, although more busy, looks a touch more rudimentary than the stamped ones. Its colouring is perhaps more primitive, but it still caught my eye.
I appreciate that's very little to go on, but considering its similarity to the Grafton designs I thought you may be able to solve my little bout of confusion, and I've included pictures of both the Grafton plate and the mystery addition for your consideration.
Regardless of whether we can put a name to them or not, I plan to keep the plates. Porcelain and china of all kinds has always caught my interest. Limited living space means I cannot grow much of a collection, but I have always found delight in intricate patterns and particularly rich blues and striking golds.
It thrills me to know that such delicate items can, with care and attention, survive decades, if not centuries. I like to imagine the lives these plates have seen, and knowing more about their provenance can help me fill in that story (as well as easing my frustration at my fruitless efforts!)
Abi
--------------------------------
Reply by Peter (admin)
Hi Abi
You painted a wonderful picture of your local store oozing with character and interest. I write this website just for people like you.
Now, as for the pattern...
Patterns names and number references on long defunct companies are very hard to trace unless there is a collector's club or museum or books written dedicated to that brand - which I don't think is the case with Grafton.
This website has had contributions from ex workers and family decendents of Grafton, so maybe they will spot this post and be able to help.
You may well find this pattern listed on Replacements.com, but they rarely reference the original pattern name, and they use their own new made up number.
As for the mystery plate, it is very similar. The pattern seems losely based on the Japanese Imari palette. When I searched for Grafton Imari pattern quite a few similar designs came up.
Let's hope we can have some pointers from others on this too.
Best regards
Peter (admin)