A Real or Fake Villeroy & Boch Pottery Mark?
by Thor
(Roch, NY U.S.A.)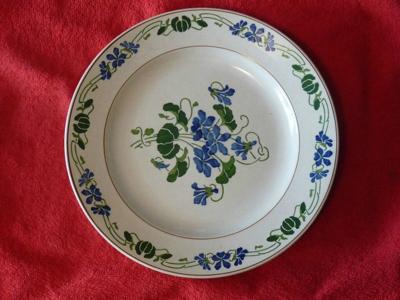 A Real or Fake Villeroy & Boch Pottery Mark?
A Real or Fake Villeroy & Boch Pottery Mark?:- I have a Villeroy & Boch dinner plate that I'm curious about. Is it genuine and if so what would be the date of manufacture. After looking at loads of V & B logos I cannot find one like the one I have. Also if anyone knows what is the pattern called. Thank you for your time. Pictures enclosed include the front, full back, logo closeup and a GF with M below impression.


Thor
=========================
Peter (admin) says:-
Actually, when you study the Villeroy & Boch marks, of this type (Mercury), they vary quite a lot. In other words there are several different versions.
I have never actually seen this one before, but remember, they had their head office in Dresden for a long period - and the Saar region was seeded to France after the war, then voted itself back into Germany in 1957. So lots of confusion there for poor old V & B, one of the oldest surviving a very best firms ever to grace planet earth (in my humble opinion).
This style of V&B porcelain mark is commonly known as the "Mercury mark" (after the God Mercury who is normally shown with a winged cap, a staff with snakes entwined, a banner with the words Villeroy & Boch and a circular mark denoting the factory name). This mark was in green as standard, but also stamped in blue
and black. V & B are known for marking their wares with characteristic German efficiency and precision. However, there are many variations, as I say and not all are fully understood or cataloged.
The big picture is that of faking. I can't see any reason why someone would particularly want to go to the trouble of wanting to fake a V & B mark on such a standard plate and pattern. Not that it's not very nice (very art nouveau looking), but it's not as if it's a an imperial vase from the Ming court.
What would anyone seek to gain from this type of faking? It is the fodder of ordinary supply distribution, not a 'valuable' item as such.
Don't get me wrong, Villeroy & Boch are renowned for their award winning initiatives in design and quality of make, being the standard-bearers for forward thinking businesses for the past 200 years or so. And I am not saying V&B services are not worth good money at auction, but I can't see any particular commercial advantage to faking a plate of this bulk standard nature. However, I am always open to be re-educated by someone who knows about the infamous fake V & B trade.
For more information on the history of V&B marks go to pm&m.com on this page:-
Villeroy & Boch Marks and History
For valuation advice from a professional, go to this page:-
Peter's vintage and antique china values page