Antique China Mystery - Large Painted Blue and White Bas Relief Vases
by Peter (admin)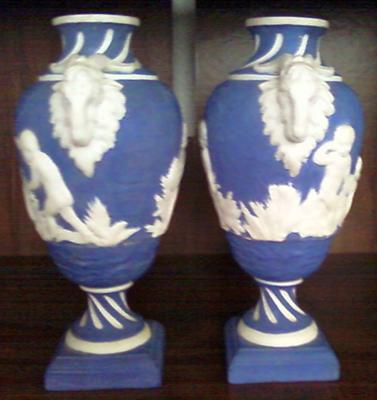 Blue & White Painted Bas Relief Vases
This is the story of Terry Huber from the US who had happened across the pair of painted blue and white vases and was curious to know their history.


Terry had a theory of where they might have been made, and wanted to run the vases across my expert team of valuers to see if they concurred or could somehow give further clues into his research about these quirky blue and white painted vases.
Here is a summary of what my ceramics expert thought about the vases:-
A Pair Of European Porcelain Vases

Your item's measurements: Height: 9.5 inches

Item Date: 19th Century

Our expert's market report:
The story of this type of ware was begun the the 1770's when Josiah Wedgwood developed Jasperware. It became increasingly popular with other makers throughout the 19th Century trying their hardest to emulate this successful 'look'. These vases are definitely European and most likely German. The blue crossed lines mark is very generic and used by many hundreds of makers, in homage to the original pioneers of hard-past porcelain in Europe, Meissen. To identify the exact studio is not possible as it is a minor one, but it may have been one of the Thuringian makers. Also the date of production could have been anytime during the 19th C as the trend remained a long term feature. Let's say anytime from 1830 - 1870. The vases are likely to be porcelain rather than parian, an English invention launched in 1842 by Copeland and Garret, which did not see the light of day with other makers (notably English firms) until after the mid 1800's and then used principally on statuary to impersonate marble. One method European makers used was to produce a Jasperware looking item was to paint the background in a jasper type blue colour, leaving the relief moulded decoration white to create the decorative effect. This is the mode of production with the vases being assessed.
So, did this concur with the theory of Terry's?
Well, yes and no, read on for the full story.....
Peter (admin)
www.figurines-sculpture.com/antique-china-values.html