Antique Vase with Cryptic G S mark and Crossed Lines
by Debby Smith
(West Haven, CT, USA)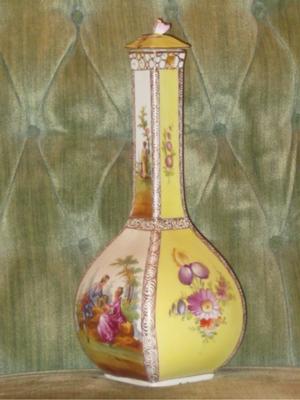 Antique Vase with Cryptic G S mark and Crossed Lines
Antique Vase with Cryptic G S mark and Crossed Lines:- For years, my stepmother (who is 97 now) has assured me that this vase is very valuable so I am finally getting around to figuring out what it is. The mark is very simple - a G, an S and some crossed lines. I have scrolled through pages of china marks without finding anything that looks even close. The only company with those initials that I have found in Gibson & Sons (aka Gibson, Sudlow & Co.) but the style seems quite different from their typical ware.


Antique Vase with Cryptic G S mark and Crossed Lines:- There are actually a pair of identical vases, as well as a bowl, all in excellent condition. It has become quite compelling for me to track down this mystery so I hope that someone can give me a clue as to their origin.
Debby
==============================
The forum Help Elf says:-
Not an obvious mark. Looks like German wares and mark rather than English.
=====================================
UPDATE
This maker is R. Grossbaum & Söhne (Son) (1890 - 1914). Quite often with this mark you will see the covered over whiteware mark which is the factory from which Grossbaum bought the china. There is not much known about this maker as it was a small short lived family concern.
After a search under the heading 'Dreseden' I managed to eventually find this mark listed on the excellent specialist German porcelain marks website
www.porcelainmarksandmore.com
.
However this website is not easy to search as the marks are not catalogued under type but geographical location, so if you don't know the location, you are stuffed!
In this case, it was fairly clear this maker may well have been a Dresden decorating studio, and luckily, this mark is filed under Germany / Saxony / Dresden. Some of the Dresden pages
are not available top non-subscribers and only 6 out the many hundreds of Dresden studios are listed.
So we were lucky to find this one.
According to Christopher the writer, researcher and owner of the site, this mark was used between 1892 and 1914 and was registered at the Dresden registary office (r#341).
Many thanks to Christopher Marshall for an excellent site - well worth subscribing if you are doing a lot of research on German porcelain.
=====================================
end UPDATE
original reply continued unedited......
Are the vases identical or a pair? There is a vast difference. They look as if they could be a pair of hand painted Dresden quatrefoil vases to my Elven eyes, although I am a mere helper, not an expert. If they were identical they would be transfer prints and not nearly so valuable.
The dish looks like typical Dresden decorator studio transfer ware (only you could tell if it was hand painting or printed - by looking at the flowers with a magnifying glass and looking for brush marks or dots). Obviously if it were hand painting of some quality, it would be worth more than transfer print.
Looks like Dresden studio ware. There were dozens of small studios staffed with skilled ceramic decorators. Whiteware blanks were bought vitreous fired from porcelain makers and decorated either by hand painting or transfer print and then sold in the city of Dresden to visitors and local people. Dresden had become a center for European porcelain due to the nearby factory of Meissen who were the first ever porcelain makers in Europe.
To get an expert to take a look you can do no better than going to
Peter's vintage and antique china values page
. The experts do charge a small admin fee, but in my humble opinion this is the closest you will get to the Antiques Roadshow online.
H.E.