Art Pottery Studio pitcher with impressed whale or fish mark or 'P'
by Patricia
(Columbus Ohio)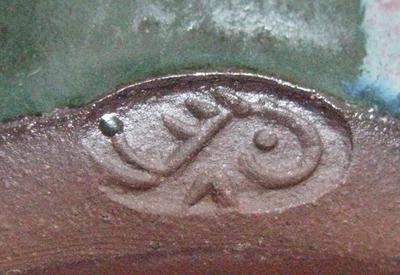 Art Pottery Studio pitcher with impressed whale or fish mark or 'P'
Hi everyone, This art studio pitcher measures 6" tall. I honestly do not know if it is old or not. The mark that I cannot figure out is what looks to me like an impressed whale or fish. The mark is not on the bottom, it is on the side of the pitcher.


The colors are grey, dark grey, and maroons. Really beautiful colors and it has a neat handle with like a square peg design at the bottom of the handle.
When you look down into the pitcher, there is a swirl design at the bottom.
So my story is it makes me crazy when I can't figure out a mark!
I think I got this pitcher at the Goodwill or a garage sale quite a few months ago. I'm always picking up pottery or anything that looks interesting. I usually let it sit around and then pick it up and become obsessed with why I cannot find the mark looking through google, pinterest, etc.
It's easy when there is a common mark and maybe this mark is common to someone else!
Thank you so much for any help you can give me.
Kind regards
Patricia in Columbus Ohio
====================================
Comment by Peter (admin)
Hi Patricia
Okay, I feel your pain! Let's try to help. I don't knpw myself and I have no really good sources of information about studio potter's markings.
However, here on this site, we have a good track record with getting answers to studio potter's marks.
We post it up, someone finds it the page who knows the identity of the studio artist (often either the artist themselves, or family or ex-colleagues of the potter), and they kindly take the trouble to post up the answer for us.
Hopefully, this will happen with this one too. It sometimes takes a while, but we get there in the end.......!!
All comments gratefully received.
Thanks
Peter (admin)