Black Art Vase with M3 or MB Initials Signature mark
by Randall Hansen
(Greenville, Texas)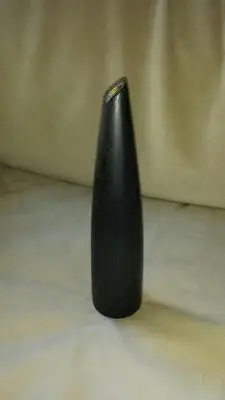 Black Art Vase with M3 or MB Initials Signature mark
Mom' house held things from our family which I remember growing up, and there is a 40' shipping container at the back of her property behind the house, holding things that have not seen the light of day for many years, including books, paintings, and pottery from much earlier. Some of the things in the shipping container came from her parents and grandparents.


Mom was a bit of a pack-rat, and has many things of interest.
Some of the things that we have found date back to 1900 and earlier. There was a large cantagalli platter, a 14k gold mesh 1920's flapper purse, a book from 1615, some paintings, a small statue from the 1950s, and a framed needlepoint with date of 1826. There also is a wooden baby cradle that Mom swore was used by folks who came across on the Mayflower.
Unfortunately there are no specific records or notes about most of these things.
The vase in the pictures I sent is about 9.5" tall, 2" wide. We found it at Mom's house after she died. I doubt that it is of great value, but would like to know something about it.
I have googled many different sites showing pottery marks but have not found any that are close.
Best Regards,
Randall Hansen