Blue and White pot with Iris pattern marked England Iris with half moon
by Kathi Barry
(Villa Rica, GA, USA)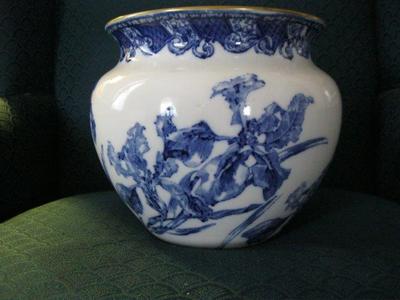 Front of pot
I am an antique who loves antiques. My Father's family is from Charleston, South Carolina via England and my paternal Great Great Grandfather enlisted in the Confederate army at the age of 16 at the beginning of the Civil War. He made it through the war although it is said that he lost an eye. He returned home to Charleston where he fathered three children.


My Mother's family immigrated from Scotland via England prior to the Revolutionary War and several of the men fought in that war as members of the Virginia Militia and the 14th Virginia Regiment. My Mother's Grandfather was up in years at the time of the Civil War but he did turn out for the battle at Kennesaw Mountain in Marietta, Georgia which was only about 50 miles from his home in Bremen, Georgia.
I live in a one hundred year old house in a little town by the name of Villa Rica in the state of Georgia, USA. My house is furnished almost entirely with antiques. I can't say that any of my furnishings are particularly valuable and I've never had anything I own appraised but they all have special meaning to me. Several of the items in my collection were originally collected by an Aunt who passed away seven years ago at the ripe old age of one hundred and one. I learned my love of all things antique from her.
My collection is very varied and ranges from jewelry to furniture and it seems almost everything in between. If it strikes my fancy it ends up in my home. Don't get me wrong, it's never so much to be considered clutter but it can certainly keep a person interested and asking questions for quite some time.
I do have a few items that are very special to me including a hand painted French oil lamp (which is kept on a very high mantle to protect it from my 10 grandchildren), a very old platform rocker and an oak buffet that reminds me of one my Grandmother had in her house
as I was growing up. Unfortunately, none of my collection has been handed down for more than one generation. I guess I've spent my life trying to make up for the failures of my ancestors to pass along their treasures. I'm an avid Antiques Roadshow fan and have serious envy of the people who have family antiques that are centuries old.
The item of interest in my inquiry is something I bought at an antique shop about twenty years ago. This shop had a mixture of antiques and items I believed to be reproductions or copies of antiques. I'm not even sure if this cachepot is an antique or one of those dreaded reproductions.
Even though I have searched English pottery, porcelain and china markings several times, I've never been able to find one that matches.
The markings are in blue on the white base and show a crown with a shield or disk design of some sort underneath. Then the word England and below that Iris. There is also a half moon shape off to the right side of the first mark.
Dimensions of the pot are as follows: It is 25 1/2 inches in circumference at the widest part and the opening or mouth is 7 inches in diameter. It is 19 3/4 inches in circumference at the neck just before the bowl flares. It stands a hair over 7 inches tall and the diameter at the base is 4 1/4 inches. The pot has a white background with a blue iris print. The blue is somewhat blurred in places and I've always called it flow blue but I'm not sure that is an accurate description. There is a gold rim around the top opening.
I would be very interested to know the maker of the pot. Also would love to know if this pot is an antique (and approximate age) or a reproduction. Any help anyone could give me on this would be appreciated. I really do hate a mystery that I can't solve and I'm hoping someone can take me out of my misery ;).