Blue and White Tureen Mark
by Barbara
(South Carolina, USA)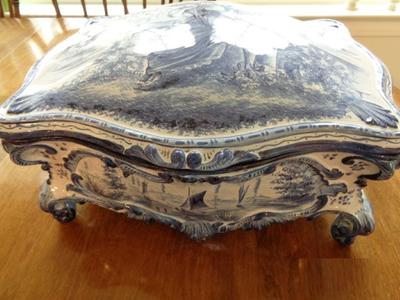 tureen
mav-mark-or-nav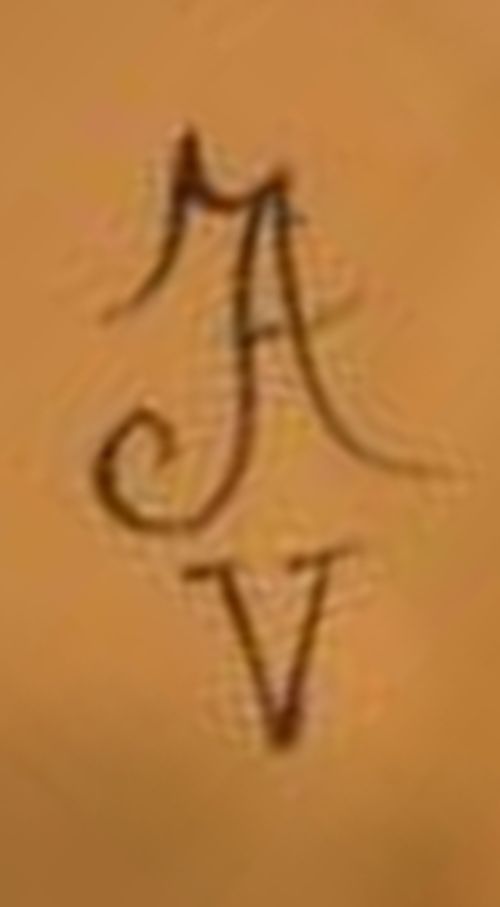 Hi,
I'm glad to have found this site.
I have just finished clearing out two houses that belonged to my parents. My mother loved glassware, pottery, porcelain, and books.
She never passed up a gift shop nor an antique store.
She bought something if she like it, caring very little about its history or lack thereof.
Consequently, my house is now storing boxes and boxes of beautiful things. After several truck loads to thrift stores (hopefully, not giving away that item another person will ebay or show up on Antiques Roadshow with as the bargain of the decade,)
I'm categorizing things as Peter suggested.
This particular piece is very nice but too large for my keeping. I have called it a tureen but don't know if that is the correct description.
It is about 12" x 10" and 7" tall. The scene on the lid is of a woman and man near a house railing with tall, skinny trees and a church in the background.
Front and back scenes are of a sailboat on one side and castle on the other. The lid has an inside rim of red clay, I think. It appears unfinished and looks like red clay.
The bottom does not seem to have any marks except some initials. Possibly and M or N, then an A and a V.
Any help would be appreciated.
Thank you. B. James
PS forgot to include mark on bottom - will try to add that in next email.
----------------------------
Reply by Peter (admin)
Dear Barbara
This is quite a magnificent large blue & white covered tureen - I believe this is at the top end of (Staffordshire?) centrepiece tureens.
I have never quite seen one like this. It looks splendidly hand painted on the side panels rather than transfer printed, but you would have to have a close look at the top panel on the cover to see if the romantic couple are also hand painted or not.
Let's get to the bottom of this one.
Peter (admin)