Can you tell me what porcelain mark this is? - crown with moth shape beneath
by caroline - Crown pottery mark looks like "MZ" - but says "MV" for "Muller Volkstedt"
(akron, ohio)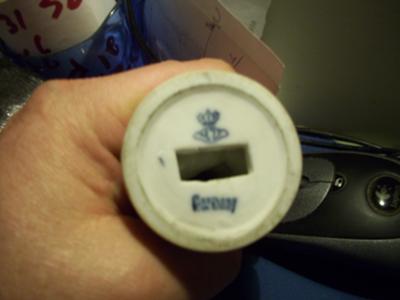 Crown pottery mark looks like
Crown pottery mark looks like "MZ" - but says "MV" for "Muller Volkstedt":- Can you tell me what porcelain mark this is? - crown with moth shape beneath :- I can't find this stamping anywhere. It is made in Germany. Please help.


Caroline
===========================
Please contribute to this thread by writing in the comments section below – just scroll down...
HOW I MADE MONEY FROM BITS & BOBS OF OLD CHINA

.....more
Crown pottery mark looks like "MZ" - but says "MV" for "Muller Volkstedt"
Message to Caroline from the forum moderator:-
There are many thousands of marks with crowns and this one is not one of the more easily recognizable ones. A little more effort would surely have helped your cause. Your picture is small and unfocussed so we can't see the details of either the mark or the figurine (although the figure does appear to have some quality traits).
Unfortunately, you have not tried to compensate for this lack of pictorial clarity by trying to describe the mark further in words.
We have tried to help you by adding the 'moth' description in your title, as this is the best we can see and we have also tried to enhance your photo of the mark. There may be letters and distinct shapes within the mark, but it is impossible to make out from the sparse information given.
All in all not the best of submissions and very much lacking in effort, but the figurine has some interest and quality to
it.
=========================================
Update by Peter (Admin)
=========================================
Hi Guys
We have the answer to this mystery mark now thanks to various contributors to various threads which have accumulated on various places over the site about this mark.
The Company is Muller & Co one of the Volkstedt (Rudolstadt, Thuringia) makers - the place where they developed the famous technique for real Dresden lace technique.
Note, the pottery mark looks (at least to my eye) as if it says the initials "MZ" - but in actual fact it says "MV" which stands for "Muller Volkstedt".
Another thing which makes this mark hard to find in the mark catalogue books is there are so many hundreds of Germanic crowns and, apart from it being like looking for needle in a haystack, this mark is listed under "Crown with drapery/scroll/streamer" in Rontgen's encyclopaedia - a section which I would never have considered looking at for this mark (as it looks like a shield, not drapery, to my eye).
This company was obliterated by the Allied bombing in the second world war, but resurrected after the war by descendents of Muller and relocated to Ireland, becoming well known as "Irish Dresden".
So this style of mark MZ (Actually MV)- which has several variations, was used in the first half of the 20th century. Irish Dresden has it's own marking system.
Anton Muller was working in the porcelain industry in Volkstedt in the late 19th century. He became highly regarded and formed his own studio in 1907.
=========================================
end update
=========================================