Chinese Blue White Crackle Vase - Appraisal & Research
by Kathy Kashen
(Baltimore, MD)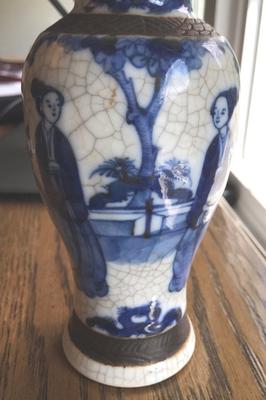 Chinese Blue White Crackle Vase - Appraisal & Research
I need help finding any information and/or value of this blue porcelain vase. My aunt gave it to me. It was bought by her brother while a Chaplin in the army years ago.


It is 7 inches tall, 3 inches in diameter, has a dark brown raised etchings around top and bottom. The seal/stamp on the bottom is also dark brown and etched into the vase. I haven't been able to find similar characters to identify the period.
I am looking to sell.
Kathy
========================
Evaluation report by Peter (admin)
Hi Kathy
My tale on this vase is as follows:
----------------------
Chinese Manderin blue and white crackle-glaze export vase from the 20th century with an etched apocryphal mark saying "Qianlong Nian Zhi" translated as "Qianlong Period Make".
Background & overview: The work from the Qianlong dynasty 1736-1795 was where the art of porcelain making was at its height in China, and so a great many mass produced exports of the 20th century pay homage to the era by referencing it in their marking schemes.
Value: The value of this vase at auction would likely be from $10-$50 USD. Retail prices are generally more
-----------------------
I would welcome any other comments.
Sleuthing points for coming to my conclusions:
Sleuthing point 1: Quality
From the photos it appears there is no particular finesse in the making of this item. High quality wares of the Qianlong era simply ooze skill, craftsmanship and quality from every small detail of decoration to the way the marking is so carefully applied.
Sleuthing point 2: Age
The crackle glaze is a kiln technique in this case, rather than age crazing. This piece does appear to have some signs of real aging deterioration, but nothing that could not have happened in period from the 20th century to now.
Origin: I am saying Chinese, but this item could easily have been an export item from post war Japan.