Chinese crackle glaze vase with elephant handles and blue marks written in Chinese
by Mark Cumming
(Wirral, United Kingdom)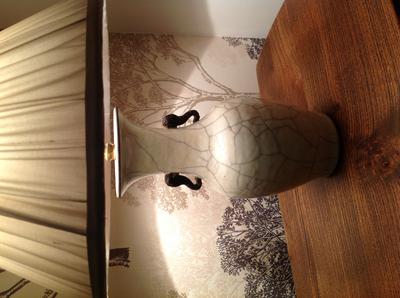 Guan style lamp base or vase with elephant handles
I have a Chinese crackle glaze lamp of my grandfathers (born 1876 - 1972)


It has been turned into a lamp in the past and has 4 markings on the base. Can you tell me who made it and when. Value too would be appreciated.
-------------------------
Hi Mark
This is likely a modern 20th century export vase/lampbase with factory made crackle glazing.
It is a Guan style vase in a Fengweizun or 'phoenix tail' shape. This shape, which came later, is not compatible with the period of Guan ware.
The mark appears to say says "Qianlong Nian Zhi" (but is written in the wrong order - actually saying 'Long Qian' instead of Qian-long) which, anyway, translates as "Qianlong Period Make" - referring to the Qing Dynasty (1644 to 1912) within which the Emperor Qianlong reigned from 1736-1795.
Many of these marks are on 20th century exports of which this is likely an example as the shape amd finish is does not appear right for real Guan.
Even so, these can sell from between $100 and $200 USD at auction, and twice that at retail such is the current fashion for Chinese wares (date of comment 2018).
Guan means "official" in Chinese. Guanware came about due to the loss of the northern Song kilns making Ru and Jun ware after an invasion to North China and the establishment of new kilns at Hangzhou, the new capital of the Song Dynasty.
Guan, Ge, Ding, Jun and Ru make up the 'Five Great Song Wares'. Starting in 960 and ending in 1279, the Song Dynasty consisted of the Northern Song (960-1127) and the Southern Song (1127-1279) - a 'golden age' of culture and development.
Guan is sometimes described as being distinguished by having a network of large grey crackles fired onto high-art stonewares.
Real Guan is very valuable indeed.
Here are some shapes associated with the Song Dynasty in Guan ware:

Best regards
Peter