Chinese or Japanese? Carved in 3D - a 'bonsai' tree growing through a rock face
by David
(Yorkshire)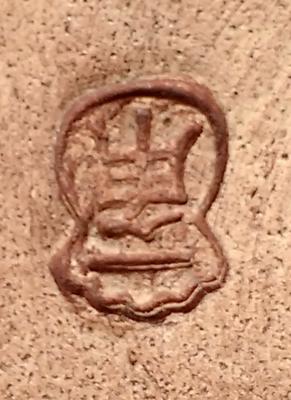 Chinese or Japanese? Impressed Stamp Mark. a 'bonsai' tree growing through a rock face
Hi All


I have a very eclectic mix of pieces, my favourites being an exceptional Kinkozan vase, a ditto Shibayama vase and 3 Inuit sculptures which possess tangible spirituality.
I recently visited an antique centre and bought the vase I am asking forum about here. I feel sure I have seen a similar piece on one of the antique programmes,but can't remember any more about it.
You will see from the photos,it is a basically slip-glazed (almost a la Martin Brothers!) vase about 8" high by 4" wide. The front panel is left unglazed,and has been carved in 3D into the interior of the vase,made to look (very convincingly) like a 'bonsai' type tree growing through a rock-face.
This element has a very japanese feel. It is superbly carved,and reminds me of the cork-bark carvings commonly available from China, the pine cones on the tree look identical in their execution.
So,is it Chinese or Japanese?
The mark is an impressed stamp type, approx. 1cm x 0.5cm
Thanks
David