Clay Craft by Deco - FEEDBACK SECTION
by Peter (admin)
(UK)
Hi All


I was recently reading a blog here:-
oiolin.blogspot.com
...and read about a clay called CLAYCRAFT by DECO. It sounded fascinating (apparently it uses Japanese technology) and have been trying to find out more.
Dear visitors, have you used it? Apparently it is not oven hardening but purely air drying polymer clay? How does it differ from Sangeeta's CP recipe, for instance?
I found their website and contacted them, and have found out a bit more, but not answers to all my questions just yet.
Here's what I know so far (I'm still working on it). Hopefully, this thread will blossom into a mine of information on CLAYCRAFT by DECO. Please go to the comments section below to contribute (CLAYCRAFT by DECO instructors particularly welcome).
They have been going for 30 years, the Craft Academy originated in Japan 30 years ago and brought to Hawaii 10 years ago. They sell a set of fine tools and molds as well as the clay.
They run classes (an academy with franchised instructor branches over Japan, Hawaii and the US - not sure where else) and also sell their own range of books as well as undertaking large floral display commissions for weddings and the likes US department store Macy's.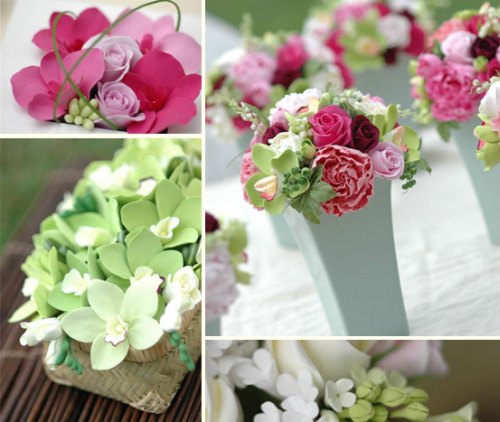 They appear to be run and owned by a lady called Yukiko and her mother (both artists) who seem to spend a lot of time in Japan. They have help from a person called Tim Janes who I contacted and has been very helpful.
Their CLAYCRAFT by DECO product line seem to be distributed by a company called The
Madden Corporation of Ko'aki Street, Waipahu, Hawaii. All their products seem to be branded, like the clay, as their own product.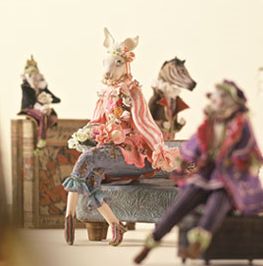 The artistry seems to come in the form of making realistic flowers and Yukiko's mother also does figures of people and 'animal' people (dressed in real dolls clothes?) which I personally found captivating and very cool (see pic opposite).
There is still lots I don't know about them, but am trying to find out.
I don't know where you can buy their CLAYCRAFT by DECO product line - whether they are available in craft shops in the US or UK as well as their domestic market of Hawaii and their various academy instructor franchises.
I also don't know if their 'own brand' clay and tools are of their own making, or they buy them in from larger concerns in Japan.
Here are some photos from their blog and website which show the type of figurine artwork I found very inspiring.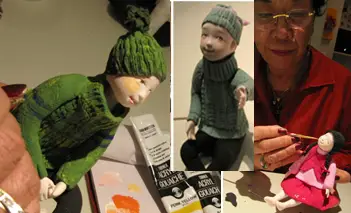 Please contribute to this new thread and let's find out more about this interesting innovative product which seems to be owned and run by inspired artists right at its core (and I am all for that!).
Peter (admin)
UPDATE:
Since time of writing, I have found a great
article on CLAYCRAFT by DECO
and this explains a great deal about them and their philosophy and evolution. Also Tim has kindly given permission to use the photos above and also filled in some of the gaps in my understanding.
What we need is some input from you artists out there now, please. Any questions, please just ask away!