Crown over M unlike any other
by Barbara
(Cedar Park, TX)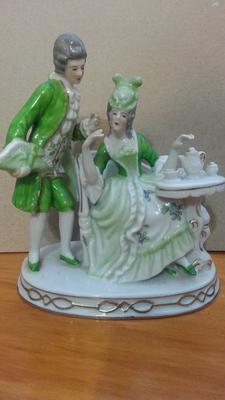 Front view 5 '' wide 6
Hi all, My name is Barbara and I am the genealogist of the family. My relatives have interpreted that to mean that it is my task to identify everything acquired by our ancestors that were passed down to others without an explanation as to whether they had any sentimental or monetary value. I am a bit frustrated by this, as I have no interest or knowledge of collectables or art.


When I married my husband he had a few pieces of statuary from his parents estate. This piece has been in my china cabinet for 25 years now, and I still can't identify it. My husband refers to it as "junk", and he doesn't remember anything useful about how or where his mother acquired it. His parents did have their home decorated in an oriental style, which just makes this piece even more out of place.
I have been looking for this style of crown marking and would have accepted any crown that remotely resembled it.
Who knew that there could be so many variations on a crown?
The stylized M under the crown appears to be unique also.
I checked other websites; www.Kovels.com has an extensive list of marks, as does www.Oldandsold.com, but no matches were found for mine.
This piece is about six inches tall,five inches long and about three and 1/2 inches wide. It is a Victorian man bending over a seated Victorian woman. She is seated on a type of chaise lounge, and has a small table to her left with a tea pot, cup and saucer, and a sugar bowl on it.
The piece itself appears to be simple at first, but again, has variations unseen in other pieces. The base is a simple oval with gold design. Others I have seen that were similar to this have scalloped or otherwise uneven bases.
The green glaze is unremarkable, with darker green for the man's jacket and the woman's bodice, and lighter green on the skirt and his hat, but then the flowers painted on the woman's dress and also on the man's matching vest are quite detailed.
Others that I have seen have a similar woman seated on a chair with a man standing near, or both the man and the woman seated on separate chairs. I really thought that it was quite a common piece when I started, and that I would be able to find hundreds for sale on sites like ebay and etsy, but that has not been the case. I haven't seen a duplicate style; not even the same mold with a different paint style.
Being a novice, I would have assumed, if there was no mark on the bottom, that it might have been made in a crafts club for ceramics or some such. And if that was the case, I would have been comfortable sending it off to Goodwill.
The mold also appears to be much more detailed than the typical victorian figurine. The hands are very detailed.
I hope someone is willing to look at this mark and maybe identify it for me so that I can put this search behind me. I have been searching through the comments on this site, using your in-site search engine, hoping someone might have posted something similar, but I just can't find anything.
Maybe this is the last of it's kind! Ha
I have attached 4 pictures. The first is from the front, then one from the back. Also included a picture of the whole base as you requested.
Finally, the very mysterious crown over M mark that I haven't been able to identify anywhere.
I appreciate eveyone's time and welcome your knowledge and insight.
Best regards,
Barbara M.